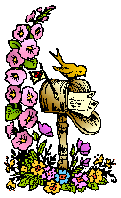 A big thank you to Marcia for originating Mailbox Monday. This weekly meme is now on tour with a new host each month. February's host is Audra of Unabridged Chick.
Shadows and Secrets (Annals of Wynnewood, Book 1) by Chautona Havig. No one knows what the cloaked creature is or why it is so terrifying. The villagers of Wynnewood only know that they must stay away from "the creature" for fear of their physical and spiritual safety. An unfortunate encounter with a dragon introduces Philip Ward to the creature, and to his surprise, he finds a friend, confidante, and companion in more adventure than he'd ever dreamed possible. Follow Philip and the creature as they rescue a lame child, discover "pirate treasure," and test the mettle of true friendship.  Shadows & Secrets is the first book in the Annals of Wynnewood.
Hellbender by Jason Jack Miller. Although the Collins clan is steeped in Appalachian magic, Henry has never paid it much attention. But when his younger sister dies mysteriously Henry can't shake the feeling that the decades-old feud between his family and another is to blame. Strange things are happening at the edge of reality, deep in the forests and mountains of West Virginia. Let Jason Jack Miller take you to a place where love is forever even when death isn't, where magic doesn't have to be seen to be believed, where a song might be the only thing that saves your soul. Jason Jack Miller's Murder Ballads and Whiskey series is a unique blend of dark fiction, urban fantasy and horror. It's Appalachian Gothic, Alt.Magical.Realism, Hillbilly Horror. It's American Gods meets Justified. True Blood with witches. It's Johnny Cash with a fistful of copperheads singing the devil right back to hell.
What arrived in your mailbox this week?