03.07.14
Title: Season of the Witch
Author: Natasha Mostert
Publisher: Portable Magic Ltd.
Source: NetGalley
In her award-winning novel*, Natasha Mostert blends alchemy, the art of memory, high magic and murder to create a highly original psychological thriller.

Gabriel Blackstone is a cool, hip, thoroughly twenty-first century Londoner with an unusual talent.  A computer hacker by trade, he is also a remote viewer: able to 'slam a ride' through the minds of others.  But he uses his gift only reluctantly — until he is asked to find a young man last seen months earlier at Monk House, in the company of two mysterious women. Gabriel becomes increasingly bewitched by the house, and by its owners, the beautiful Monk sisters.  But even as he falls in love, he suspects that one of them is a killer.

*Winner of the World Book Day: Book to Talk About Award 2009.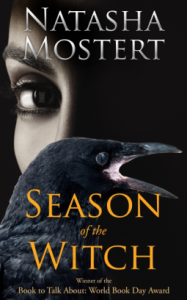 Mostert manages to give a thoroughly modern tale a gothic feel without pinning it into a single genre. The London setting where modern and ancient buildings coexist is perfect.
When we meet Gabriel he is working on an information retrieval assignment. Gabriel's doing scout work and seems to be the people person in the operation. His partner and friend, Isidore, is the hacker who spends most of his time in a filthy flat attached to a computer.
Gabriel is contacted by a new potential client. William doesn't have the usual request – he wants Gabriel's help in find his son. For personal reasons Gabriel finds himself drawn to the assignment.
One of the sisters, Morrighan or Minnaloushe Monk, knows what happened to the missing son. Gabriel's intelligence, looks, and psychic remote viewing ability gets the sisters' attention. He puts himself and Isidore in danger by acting with his heart and not his head.
I found myself caught up in trying to figure out which of the sisters was involved with the son's disappearance but never connected with the main characters. I wanted to know more about the secondary characters. It was difficult at times to keep track of the Monks due to the similarity of their names and some of their interests. These easily provided red herrings for the reader.