05.13.14
I love the premise behind A is for Apocalypse and I believe you will too.
What do you get when you take twenty-six amazing writers, randomly assign them a letter of the alphabet and give them complete artistic freedom within a theme?

A is for Apocalypse

A is for Apocalypse contains twenty-six apocalyptic stories written by both well-known and up-and-coming writers. Monsters, meteors, floods, war–the causes of the apocalypses in these tales are as varied as the stories themselves.

This volume contains work by Ennis Drake, Beth Cato, Kenneth Schneyer, Damien Angelica Walters, K. L. Young, Marge Simon, Milo James Fowler, Simon Kewin, C.S. MacCath, Steve Bornstein and more!
This collection was edited by Rhonda Parrish and the cover was designed by Jonathan Parrish. Expected date of publication is August 2014.

Isn't that a nice cover? Very simple. I think the sunset with the ghost text of the contributor's names is a haunting image.
As part of the cover reveal, Rhonda asked some of the authors about their favorite "A" word. My favorite "A" word is Accoutrement. It's a word that for a long time I just passed over whenever it was used in a book. But then it was used by Steve Carell in an episode of The Office and I've been hooked on it ever since.
If you'd like to get updates about A is for Apocalypse (including giveaways) there's a mailing list signup here: http://eepurl.com/TzDN9
Without further ado, here's Rhonda…
In choosing a theme for this, the first of a series of anthologies, I considered and rejected a great many "A" words. Tell us about your favourite word that begins with the letter A.
Alexis A. Hunter- As an author — 'acceptance' has a beautiful ring to it.  As a sci-fi writer — 'apex' is particularly engaging.  In general — 'angel' is one of my favorite words, because they're one of my favorite 'creature types' to play with in stories.  Plus I have a thing for wings and feathers.
Michael Kellar – My "A" word would be arachnid. I'm a spider person. (You could consider this when you get to "S is for…")
Damien Angelica Walters – My favourite word that begins with the letter A is anathema. It rolls off the tongue like a whisper, hiding its dark meaning in pretty syllables.
Marge Simon – Alliteration because it's a beautiful word.  Sorry if it doesn't connote anything bad, like assassin.

Simon Kewin - My favourite A word is (possibly) Archaeopteryx. I love the shape of the word. It's exotic and fantastical and ungainly all at the same time – a little like the creature itself. It derives from the Greek archaeo (ancient) and pterux (wing). So, "Ancient Wing". Archaeopteryx is a lovely illustration of the forces of evolution in progress; it's a snapshot of a species in the process of changing from dinosaur ancestor to modern avian descendent. Here was a creature with a bony tail and teeth and feathers. And claws on its wings. I'd love to have seen one…
Sara Cleto – My favorite A word is amethyst, a purple-violet quartz often used in jewelry (particularly at Renaissance Faires!) As a little girl, I was obsessed with the color purple, and my mom's amethyst jewelry was the subject of much fascination- I was sure the stones had some sort of magical property, and I seem to recall trying to do spells with them… And now, in my old age, I'm deeply amused by their purported ability to prevent excessive intoxication.
Beth Cato – Tricky question since my absolute favorite word begins with B. For A words, I have to say I like "anaphylactic." It's morbid, I know, since the meaning is a severe allergic reaction, but I like the word because it has a cool poetic rhythm.
Suzanne van Rooyen – This is really tough to answer! There are so many great words starting with A like analogy, allegory and awesome! But I think my favourite is actually a name. Atreyu. Atreyu – the character from The Never Ending Story – was my first major crush as a kid and that film was such a huge part of my childhood. If I ever have a son one day, his name is going to be Atreyu.
Brittany Warman – The first of my favorite words that begin with A that I thought of was "aurora" – not only is it frequently the name of the princess (or her daughter) from "Sleeping Beauty," a favorite fairy tale of mine, but it was also my very first online screen name! I just love the concept and the way the word flows off the tongue too. It seems to convey mystery, beauty, and strength to me.
C.S. MacCath – My favourite 'A' word is 'atonement', because unlike 'forgiveness', it places the onus for righting a wrong where it belongs; upon the head of the person who committed it. If we were socialized to atone as much as we are already socialized to forgive, we might learn to be more careful with one another.
05.10.14
Gals! Guys! I'm participating in a cover reveal on the 13th. I can't tell you anything about it until then. Just know I saw the cover today and additional promo material got me excited to read this book. I hope you'll find the premise interesting. Come back on the 13th!
04.30.14
Title: Her Loving Husband's Curse
Author: Meredith Allard
Publisher: Copperfield Press
Source: Premier Virtual Author Book Tours in exchange for an honest review

Her Loving Husband's Curse is the second book in Meredith Allard's Loving Husband Trilogy. It's not necessary to have read the first book as Allard is adept at sprinkling bits and pieces of the backstory in this novel.
And then, as if he could read her mind, he said, "We'll be all right, Sarah. Just the two of us. I'll never leave you ever."

Finally, after many long and lonely years, James Wentworth's life is falling into place. With his wife, Sarah, the only woman he has ever loved, he has found the meaning behind her nightmares about the Salem Witch Trials, and now they are rebuilding the life they began together so long ago.

But the past is never far away for the Wentworths. While Sarah is haunted by new visions, now about the baby she carried over three hundred years before, James is confronted with painful memories about his time with the Cherokee on the Trail of Tears. Through it all, the persistent reporter Kenneth Hempel reappears, still determined to prove that the undead walk the earth. If Hempel succeeds in his quest, James and Sarah will suffer. Will the curse of the vampire prevent James and Sarah from living their happily ever after?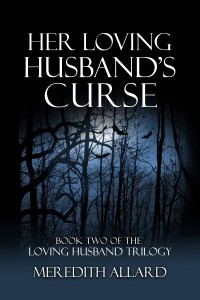 What happens when you mix historical fiction, romance, and the supernatural? In this case, a book I kept finding an excuse not to keep reading. It has a lot going for it but I couldn't connect to the characters.
Allard picks a historical event (The Trail of Tears) to parallel the storyline in which James is forced to leave his home and family behind. It's a famous event but I can't recall off the top of my head any fiction that uses it as a backdrop. This was smart as the reader wouldn't be tied to points of historical accuracy and gave Allard room to fictionalize events along the march.
The vampires aren't exactly stereotypical – sure, they have strong bodies without a pulse but they also shed bloody tears. And they aren't superhuman. The reader won't find any vampires carrying humans long distances in hopes of keeping the human from harm's way.
The book tour for Her Loving Husband's Curse continues until May 2nd. Check out the other stops (and a chance or two to win a copy of your own) at the Premier Virtual Author Book Tours site.
About The Author
Meredith Allard has taught creative writing and writing historical fiction workshops at Learning Tree University, UNLV, and the Las Vegas Writers Conference. Her short fiction and articles have appeared in journals such as The Paumanok Review, Wild Mind, Moondance, Muse Apprentice Guild, The Maxwell Digest, CarbLite, Writer's Weekly, and ViewsHound. She is the author of the Loving Husband Trilogy, Victory Garden, Woman of Stones, and My Brother's Battle (Copperfield Press). She lives in Las Vegas, Nevada. Visit Meredith online at www.meredithallard.com.
Meredith on Facebook: https://www.facebook.com/authormeredithallard
Meredith on Twitter: https://twitter.com/copperfield101
Meredith on Google+: https://plus.google.com/101687256587444508026/posts?hl=en 
Meredith on Pinterest: http://www.pinterest.com/meredithallard/
04.02.14
I apologize if your RSS feeds were inundated with my book reviews yesterday. I've had some sitting around (and there are still more) in my drafts for a year or longer and thought the best day to publish them so many of them was April Fool's Day. I may turn it into an annual way of trying to clear out my drafts queue.
04.01.14
Title: Lowcountry Bribe
Author: C. Hope Clark
Publisher: Bell Bridge Books
Source: Personal Library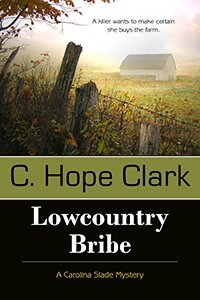 A killer wants to make certain she buys the farm.

Threats, a missing boss, a very dead co-worker, a high-level investigation and a sinister hog farmer: Lowcountry Ag Department manager Carolina Slade is a bean-counting civil servant in hot water.

Carolina Slade is a by-the-book county manager for the Department of Agriculture—a civil servant who coordinates federal loans for farmers in the coastal Lowcountry of South Carolina. When one of her clients, a hog farmer named Jessie Rawlings, offers her a bribe, Slade reports Jessie to her superiors. The next thing she knows, she's besieged by Resident Agent-In-Charge, now a Contract Investigator, Wayne Largo from the Feds' IG Office in Atlanta. He and his partner have come to investigate Slade's accusations, and if possible catch Jessie in the act of handing over money.

However, the IG isn't telling Slade everything. The agents are also investigating the disappearance of Slade's boss the year before in connection to possible land fraud. And when the sting on Jessie goes bad, the case is put on hold and Wayne is called back to Atlanta, leaving Slade to fear not only for her life and job, but for her children's safety.
I've received Hope Clark's email newsletters over the years which have provided progress updates on her debut novel so I was eager to read Lowcountry Bribe when it became available. Clark knows Slade intimately. Clark worked in the US Department of Agriculture and is married to a former federal officer. They met during a bribery investigation. Sound familiar?
Everything Bell Bridge Books has published, that I've read, I've enjoyed. Lowcountry Bribe is no exception. The opening scene reels the reader in. The book is well-paced and Slade is relatable. Slade is put into some dangerous situations and it's only the first novel! This is a good novel to read while cozying up to the fireplace or sitting on the porch with a cold lemonade.
Title: The Borgia Betrayal
Author: Sara Poole
Publisher: St. Martin's Griffin
Source: St. Martin's Press in exchange for a review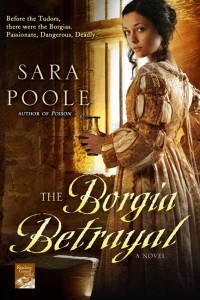 In the summer of 1493, Rodrigo Borgia, Alexander VI, has been pope for almost a year. Having played a crucial role in helping him ascend the chair of Saint Peter, Francesca, haunted by the shadows of her own past, is now charged with keeping him there. As court poisoner to the most notorious and dangerous family in Italy, this mistress of death faces a web of peril, intrigue, and deceit that threatens to extinguish the light of the Renaissance.

As dangers close in from every direction, Francesca conceives a desperate plan that puts her own life at risk and hurls her into a nightmare confrontation with a madman intent on destroying all she is pledged to protect. From the hidden crypts of fifteenth-century Rome to its teeming streets alive with sensuality, obsession, and treachery, Francesca must battle the demons of her own dark nature to unravel a plot to destroy the Borgias, seize control of Christendom, and plunge the world into eternal darkness.
This book came out after the first season of The Borgias began to air. I began watching the tv series but I don't recall if I finished the first season or not. The premise behind this book, about a court poisoner was most interesting. This is the second book in the Poisoners Mystery series. I did not read the first book, Poison. According to the Reading Group Gold interview with Poole, each was written as a stand alone book. Poole felt there could be as many as a dozen books in the series but to date only three have been written. In fact, the Sara Poole site is no longer in existence and Goodreads indicates Sara Poole is a pseudonym for a New York Times bestselling author who wanted to write historical fiction. As the Twitter and Facebook accounts haven't been updated in a few years, I think it's unlikely there will be more than the three books.
I'm disappointed as I fell a little bit in love with Sara Poole's Francesca. Francesca could easily have an ordinary life with a husband and child and she sometimes thinks about it. She learned poisons from her father and her profession puts anyone who cares about her in danger. She wishes to avenge the death of her father and the life of an ordinary woman would not allow that. Francesca's intelligence and the trust Borgia places in her provides her with opportunities she otherwise might not have. Francesca's complexity is why I liked her so much.
Title: Jana Bibi's Excellent Fortunes
Author: Betsy Woodman
Publisher: Henry Holt and Company
Source: ARC from Henry Holt and Company
From Henry Holt's site:
Meet Jana Bibi, a Scottish woman helping to save the small town in India she has grown to call home and the oddball characters she considers family

Janet Laird's life changed the day she inherited her grandfather's house in a faraway Indian hill station. Ignoring her son's arguments to come grow old in their family castle in Scotland, she moves with her chatty parrot, Mr. Ganguly and her loyal housekeeper, Mary, to Hamara Nagar, where local merchants are philosophers, the chief of police is a tyrant, and a bagpipe-playing Gurkha keeps the wild monkeys at bay. Settling in, Jana Bibi (as she comes to be known) meets her colorful local neighbors—Feroze Ali Khan of Royal Tailors, who struggles with his business and family, V.K. Ramachandran, whose Treasure Emporium is bursting at the seams with objects of unknown provenance, and Rambir, editor of the local newspaper, who burns the midnight oil at his printing press. When word gets out that the town is in danger of being drowned by a government dam, Jana is enlisted to help put it on the map. Hoping to attract tourists with promises of good things to come, she stacks her deck of cards, readies her fine-feathered assistant—and Jana Bibi's Excellent Fortunes is born.
Are you looking for an escape from the winter weather in your area? Or are you already planning your summer beach reads? Jana Bibi's Excellent Fortunes will transport you to a small Indian town in 1960. Like any small place, Hamara Nagar is full of characters who aren't likely to be found anywhere else.
Jana Bibi is lonely and doesn't feel as if her son understands her. Mary, who has been with her for years, understands Jana Bibi's kind nature and anticipates her employer's house won't hold just the two of them for long. Mary's correct.
Woodman perfectly captures how one woman can win over a town by engaging people in conversation and listening to their concerns. The secondary characters, while interesting on their own, really reveal the kindness and determination of Jana Bibi.
I'm sure more adventures for Jana Bibi and her neighbors is just around the corner.
Title: L.A. Noir: The Collected Stories
Author: Rockstar Games (Edited by Jonathan Santlofer)
Publisher: Mulholland Books
Source: Bought it!
Rockstar Games has partnered with Mulholland Books to publish a collection of short fiction expanding the world of the newest groundbreaking achievement in storytelling: the interactive crime thriller L.A. Noire.

1940s Hollywood, murder, deception and mystery take center stage as readers reintroduce themselves to characters seen in L.A. Noire. Explore the lives of actresses desperate for the Hollywood spotlight; heroes turned defeated men; and classic Noir villains. Readers will come across not only familiar faces, but familiar cases from the game that take on a new spin to tell the tales of emotionally torn protagonists, depraved schemers and their ill-fated victims.

With original short fiction by Megan Abbott, Lawrence Block, Joe Lansdale, Joyce Carol Oates, Francine Prose, Jonathan Santlofer, Duane Swierczynski and Andrew Vachss, L.A. Noire: The Collected Stories breathes new life into a time-honored American tradition, in an exciting anthology that will appeal to fans of suspense and gamers everywhere.
The month before we turned 40, my husband and I spent a week in New York city to celebrate our upcoming milestone. We dined at fancy (and not so fancy) restaurants, sampled goodies from The Magnolia Bakery and Donut Plant, visited several art galleries and museums, and saw some unforgettable stage performances. I recall the sidewalk advertisements for the video game and short story collection. Upon learning of the various authors in this collection, I purchased it. Don't we have to hear or read about an item eight times before we're moved to purchase it?
Fortunately, none of the stories in the collection are repetitive. Each story has its own cover and covers different themes and characters from the genre. It's a nice survey of Hollywood in the 1940s. I read some of the characters are also in the video game but I can't say if it's accurate or not. I've never played the game.
Several of the authors were known to me through previous work and I'm sure this was a fun exercise for them. Some of the stories are quite dark in tone so you probably don't want to read them while eating in a diner or waiting at the bus stop. They may hit a little too close for comfort.
Title: The Shimmer
Author: David Morrell
Publisher: Vanguard Press
Source: FSB Associates in exchange for a review
Creator of Rambo and the co-founder of the International Thriller Writers organization, David Morrell has been called "the father of the modern action novel." Now this award-winning, New York Times bestselling author delivers The Shimmer, a novel of chilling impact.

When police officer Dan Page's wife disappears, her trail leads to Rostov, a remote Texas town where unexplained phenomena attract hundreds of spectators each night. Not merely curious, these onlookers are compelled to reach this tiny community and gaze at the mysterious Rostov Lights.

But more than the faithful are drawn there. A gunman begins shooting at the lights, screaming "Go back to hell where you came from!" then turns his rifle on the innocent bystanders. As more and more people are drawn to the scene of the massacre, the stage is set for even greater bloodshed.

To save his wife, Page must solve the mystery of the Rostov Lights. In the process, he uncovers a deadly government secret dating back to the First World War. The lights are more dangerous than anyone ever imagined, but even more deadly are those who try to exploit forces beyond their control.

With The Shimmer, David Morrell takes readers on a brilliant, terrifying journey. Suspenseful, yet thought-provoking, it is the master at his very best.
Before reading The Shimmer I'd never heard of David Morrell although he's most famous for creating the character, John Rambo. I suppose this is one case where the author has been eclipsed by the creation.
The lights in Rostov, Texas are based on similar lights in Marfa, Texas (someplace I'd like to visit). I liked how he took a remote, yet known place, as the setting for the book and turned it into somewhere else. The story is well plotted. It's difficult to pin it down as a political thriller or science fiction so it's best not to even try. Overall I found it solidly written and a worthwhile vacation read.