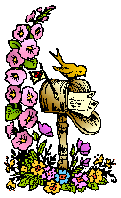 A big thank you to Marcia for originating Mailbox Monday. In this weekly meme you share books which came into your home during the week. I bought the first book for myself, the next two were birthday gifts, and the last was from the library.
Here are the books I picked up this week:
One in the Hand by Rhonda Parrish –
Piranesi by Susanna Clarke –
Piranesi's house is no ordinary building: its rooms are infinite, its corridors endless, its walls are lined with thousands upon thousands of statues, each one different from all the others. Within the labyrinth of halls an ocean is imprisoned; waves thunder up staircases, rooms are flooded in an instant. But Piranesi is not afraid; he understands the tides as he understands the pattern of the labyrinth itself. He lives to explore the house.
There is one other person in the house-a man called The Other, who visits Piranesi twice a week and asks for help with research into A Great and Secret Knowledge. But as Piranesi explores, evidence emerges of another person, and a terrible truth begins to unravel, revealing a world beyond the one Piranesi has always known.
For readers of Neil Gaiman's The Ocean at the End of the Lane and fans of Madeline Miller's Circe, Piranesi introduces an astonishing new world, an infinite labyrinth, full of startling images and surreal beauty, haunted by the tides and the clouds.
The Mirror & The Light by Hilary Mantel –
With The Mirror & the Light, Hilary Mantel brings to a triumphant close the trilogy she began with her peerless, Booker Prize-winning novels, Wolf Hall and Bring Up the Bodies. She traces the final years of Thomas Cromwell, the boy from nowhere who climbs to the heights of power, offering a defining portrait of predator and prey, of a ferocious contest between present and past, between royal will and a common man's vision: of a modern nation making itself through conflict, passion and courage.
The story begins in May 1536: Anne Boleyn is dead, decapitated in the space of a heartbeat by a hired French executioner. As her remains are bundled into oblivion, Cromwell breakfasts with the victors. The blacksmith's son from Putney emerges from the spring's bloodbath to continue his climb to power and wealth, while his formidable master, Henry VIII, settles to short-lived happiness with his third queen, Jane Seymour.
Cromwell, a man with only his wits to rely on, has no great family to back him, no private army. Despite rebellion at home, traitors plotting abroad and the threat of invasion testing Henry's regime to the breaking point, Cromwell's robust imagination sees a new country in the mirror of the future. All of England lies at his feet, ripe for innovation and religious reform. But as fortune's wheel turns, Cromwell's enemies are gathering in the shadows. The inevitable question remains: how long can anyone survive under Henry's cruel and capricious gaze?
Eagerly awaited and eight years in the making, The Mirror & the Light completes Cromwell's journey from self-made man to one of the most feared, influential figures of his time. Portrayed by Mantel with pathos and terrific energy, Cromwell is as complex as he is unforgettable: a politician and a fixer, a husband and a father, a man who both defied and defined his age.
Dial A for Aunties by Jesse Q. Sutanto –
When Meddelin Chan ends up accidentally killing her blind date, her meddlesome mother calls for her even more meddlesome aunties to help get rid of the body. Unfortunately, a dead body proves to be a lot more challenging to dispose of than one might anticipate, especially when it is inadvertently shipped in a cake cooler to the over-the-top billionaire wedding Meddy, her Ma, and aunties are working at an island resort on the California coastline. It's the biggest job yet for the family wedding business—"Don't leave your big day to chance, leave it to the Chans!"—and nothing, not even an unsavory corpse, will get in the way of her auntie's perfect buttercream flowers.
But things go from inconvenient to downright torturous when Meddy's great college love—and biggest heartbreak—makes a surprise appearance amid the wedding chaos. Is it possible to escape murder charges, charm her ex back into her life, and pull off a stunning wedding all in one weekend?
What arrived in your mailbox this week?