Title: Malice
Author: Heather Walter
Publisher:Â Random House Publishing Group – Ballantine Del Ray
Source: NetGalley in exchange for an honest review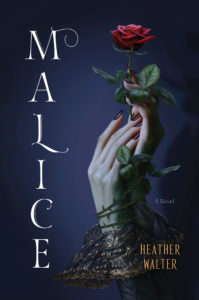 A princess isn't supposed to fall for an evil sorceress. But in this "bewitching and fascinating" (Tamora Pierce) retelling of "Sleeping Beauty," true love is more than a simple fairy tale.

"Walter's spellbinding debut is for all the queer girls and women who've been told to keep their gifts hidden and for those yearning to defy gravity."—O: The Oprah Magazine

Once upon a time, there was a wicked fairy who, in an act of vengeance, cursed a line of princesses to die. A curse that could only be broken by true love's kiss.

You've heard this before, haven't you? The handsome prince. The happily ever after.

Utter nonsense.

Let me tell you, no one in Briar actually cares about what happens to its princesses. Not the way they care about their jewels and elaborate parties and charm-granting elixirs. I thought I didn't care, either.

Until I met her.

Princess Aurora. The last heir to Briar's throne. Kind. Gracious. The future queen her realm needs. One who isn't bothered that I am Alyce, the Dark Grace, abhorred and feared for the mysterious dark magic that runs in my veins. Humiliated and shamed by the same nobles who pay me to bottle hexes and then brand me a monster. Aurora says I should be proud of my gifts. That she . . . cares for me. Even though a power like mine was responsible for her curse.

But with less than a year until that curse will kill her, any future I might see with Aurora is swiftly disintegrating—and she can't stand to kiss yet another insipid prince. I want to help her. If my power began her curse, perhaps it's what can lift it. Perhaps together we could forge a new world.

Nonsense again. Because we all know how this story ends, don't we? Aurora is the beautiful princess. And I—

I am the villain.

Book One of the Malice Duology
Some book reviews are really easy to complete. Perhaps it's the euphoria from finishing a book that's not like anything else you've read in a while. I found myself transported to a different time, a different place, and a different culture with this book. In the back of my mind, was a voice asking if this was a retelling of Cinderella, or Wicked, and then I re-read the synopsis which was what enticed me into reading the book in the first place. It has elements of those tales plus Sleeping Beauty which is why I found it so successful. Walter did a great job at making this a truly unique story.
The story has some bullying elements, but it also shows what can happen when women give up their power too easily. I was thoroughly captivated from beginning to end. Alyce is an "other" because she doesn't fit the mold of the other Graces in the land. The Graces use blood magic to create their temporary enchantments. Her blood is a different color and offers the opposite magic of theirs – instead of graceful dance moves, wonderous voices, and beautiful faces, her potions offer boils, itchy skin, clumsiness, and so on to be used against romantic competition. The magic that flows in the Graces blood only lasts for a limited amount of time. When the magic fades, they are placed into retirement and become matrons overseeing the care of Graces. Alyce's newfound friendship outside of the city walls reveals to her more uses for her magic.
Another twist is the expected heterosexual romance. There are rumors at least one princess found her true love with a woman but married a man because that was the expectation. The romance between Alyce and Aurora is a slow one, with some of the usual misunderstandings that come from miscommunications or withheld information to be found in romance novels.
This is a planned duology and I can't wait to read the sequel to find out if true love conquers all.