02.12.13
Title: MWF Seeking BFF: My Yearlong Search for a New Best Friend
Author: Rachel Bertsche
Publisher: Ballantine Books
Source: Columbus Metropolitan Library
When Rachel Bertsche first moves to Chicago, she's thrilled to finally share a zip code, let alone an apartment, with her boyfriend. But shortly after getting married, Bertsche realizes that her new life is missing one thing: friends. Sure, she has plenty of BFFs—in New York and San Francisco and Boston and Washington, D.C. Still, in her adopted hometown, there's no one to call at the last minute for girl talk over brunch or a reality-TV marathon over a bottle of wine. Taking matters into her own hands, Bertsche develops a plan: She'll go on fifty-two friend-dates, one per week for a year, in hopes of meeting her new Best Friend Forever.

In her thought-provoking, uproarious memoir, Bertsche blends the story of her girl-dates (whom she meets everywhere from improv class to friend rental websites) with the latest social research to examine how difficult—and hilariously awkward—it is to make new friends as an adult. In a time when women will happily announce they need a man but are embarrassed to admit they need a BFF, Bertsche uncovers the reality that no matter how great your love life is, you've gotta have friends.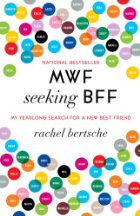 My situation is a slightly different from Bertsche's. I stayed in town but my two best friends moved elsewhere for love. While I was in my 20s this was alright but now that I'm just starting my 40s I realize I want to do things (like taking cooking classes) which my husband has no interest in and some of these things are more fun when it's a shared experience. I picked this up because I wondered how she went about finding a new best friend and whether or not she was successful.
She does manage to go on 52 girl-dates during the year. But she forgot it takes more than a date to find a new best friend. I'm surprised she was able to juggle all her commitments between work, her family, and the follow-up dates. Bertsche is methodical in her search. She interviews friendship experts. She turns to different places to meet women who may share her values and interests.
I've been thinking about how men have side-to-side friendships and women have face-to-face friendships. Men bond by doing activities together (watching tv) while women bond through conversation (such as coffee or shared meals). Just looking at my small department (4 men and 3 women) seems to give some validity to this theory.
It's given me food for thought and I've been recommending it as my recent non-fiction read.