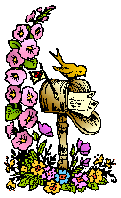 A big thank you to Marcia for originating Mailbox Monday. This weekly meme is now on tour with a new host each month. January's host is Lori of Lori's Reading Room.
I've been checking out quite a few books from the library recently or trying to get through my TBR pile. I did receive some LibraryThing Early Reviewer winnings.
The Burning Time by J.G. Faherty. The Stranger has come to open a gateway to the Elder Gods. One country mage with the help of a woman and teenage son will have to defeat him.
Forever Man by Brian W. Matthews. Police Chief Elizabeth "Izzy" Morris enjoys keeping the peace in the small town of Kinsey in Michigan's Upper Peninsula. But when her seventeen-year-old daughter goes missing after a school dance and the mutilated corpse of the girl's date is discovered in the nearby woods, Izzy's police skills are stretched to their limits.
What arrived in your mailbox this week?