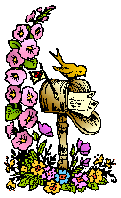 A big thank you to Marcia for originating Mailbox Monday. This weekly meme is now on tour with a new host each month. December's host is Suko's Notebook.
My list of books keeps growing and I keep pushing off this meme because the list keeps growing.
For now, so I can finally say I did one of the memes this month I've got one book to list. Ink by Damien Walters Grintalis. It's a horror book about a tattoo gone wrong. I'm not really into horror but I'm friends with her on Twitter. Her daily tweets about writing and the excitement over Ink tipped me into making a purchase. It was a fast read and enjoyable. Review coming soon.
What arrived in your mailbox this week?