Title: Victories Greater Than Death
Author: Charlie Jane Anders
Publisher: Macmillan Tom-Doherty Associates – Tor Teen
Source: Publisher on NetGalley in exchange for an honest review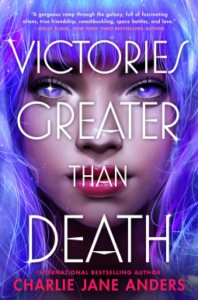 Outsmart Your Enemies. Outrun the Galaxy.

"Just please, remember what I told you. Run. Don't stop running for anything."

Tina never worries about being 'ordinary'–she doesn't have to, since she's known practically forever that she's not just Tina Mains, average teenager and beloved daughter. She's also the keeper of an interplanetary rescue beacon, and one day soon, it's going to activate, and then her dreams of saving all the worlds and adventuring among the stars will finally be possible. Tina's legacy, after all, is intergalactic–she is the hidden clone of a famed alien hero, left on Earth disguised as a human to give the universe another chance to defeat a terrible evil.

But when the beacon activates, it turns out that Tina's destiny isn't quite what she expected. Things are far more dangerous than she ever assumed–and everyone in the galaxy is expecting her to actually be the brilliant tactician and legendary savior Captain Thaoh Argentian, but Tina….is just Tina. And the Royal Fleet is losing the war, badly–the starship that found her is on the run and they barely manage to escape Earth with the planet still intact.

Luckily, Tina is surrounded by a crew she can trust, and her best friend Rachel, and she is still determined to save all the worlds. But first she'll have to save herself.

Buckle up your seatbelt for this thrilling YA sci-fi adventure set against an intergalactic war from internationally bestselling author Charlie Jane Anders.
Over 15 years ago, I submitted an essay to an anthology Charlie Jane and her partner worked on. I never received a response (my essay was truly horrid because it was too general) but at some point Charlie Jane followed me on twitter and I followed her back. She's undoubtedly one of the nicest and smartest people around. I mention our tenuous connection in case anyone happens to see our twitter exchanges even though I'm set to private. This is getting a lot of buzz as it approaches its April 13th publication date so you'll be able to check out readings, blog posts, and such for the book over the next month or two.
I came to Victories Greater Than Death knowing it would probably be pretty great. And it is! A friend's son is really into books with characters who have more than binary pronouns and I think in a year or two he will really enjoy this. (He's nine.) Some cranky people might say this novel is "politically correct" because people ask for consent before touching another person and each character introduces themselves with their preferred pronouns. I think this is respectful and helps give readers some guidelines on how to behave towards others. I mean, it's really timeless to ask someone if you can hug them, whether you're at school/work, in a global pandemic, or millions of miles away from home on a starship.
This has a LOT of world building thanks to so many species in the galaxy. The nuggets of information are sprinkled throughout the book without sounding like an infodump. Tina has encyclopedic knowledge without the corresponding memories of the legendary space hero. Because Tina is the main character and this book is told from her point of view, she has the most characterization. She thinks like a teen with the feelings of a teen and sometimes doesn't say what she wants. But she's learning how to speak up.
This is Tina's first foray into embracing her destiny and I'm sure this book does a fine job setting the tone for the remaining books in the planned trilogy. Tina may not do everything by the Royal Fleet handbook but that's part of finding out who you're meant to be!
There's a villain who is sure to make more appearances. Tina's best friend, Rachel, an introverted artist isn't going anywhere. I would love to see Rachel's artwork! A handful of earthlings, a non-earthling movie star, a second-in-command with predatory killer instincts, and a little bit of space ship hijacking come together to make a delightful space romp.