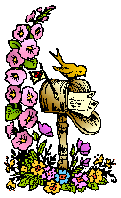 A big thank you to Marcia for originating Mailbox Monday. In this weekly meme you share books which came into your home during the week. All of my books this week came from my local award winning library system, the Columbus Metropolitan Library. I'll start leaving comments on my fellow meme-sters posts after I get my commenting password reset.
Here are the books I picked up this week:
Get Good with Money by Tiffany "The Budgetnista" Aliche –
Rat Queens Volume 6: The Infernal Path Written by Kurtis J. Wiebe  and Illustrated by Owen Gieni –
The further adventures of the booze guzzling, death dealing battle maidens-for-hire in the business of killing all the gods' creatures for profit. Hannah the Rockabilly Elven Mage, Violet the Hipster Dwarven Fighter, Dee the Atheist Human Cleric, Betty the Hippy Smidgen Thief and Braga the Orc Princess.
RAT QUEENS is a modern spin on an old school genre, a monster killing epic with a twisted sense of humor.
Furiously Happy: A Funny Book About Horrible Things by Jenny Lawson –
In Furiously Happy, a humor memoir tinged with just enough tragedy and pathos to make it worthwhile, Jenny Lawson examines her own experience with severe depression and a host of other conditions, and explains how it has led her to live life to the fullest:
"I've often thought that people with severe depression have developed such a well for experiencing extreme emotion that they might be able to experience extreme joy in a way that 'normal people' also might never understand. And that's what Furiously Happy is all about."
Jenny's readings are standing room only, with fans lining up to have Jenny sign their bottles of Xanax or Prozac as often as they are to have her sign their books. Furiously Happy appeals to Jenny's core fan base but also transcends it. There are so many people out there struggling with depression and mental illness, either themselves or someone in their family―and in Furiously Happy they will find a member of their tribe offering up an uplifting message (via a taxidermied roadkill raccoon). Let's Pretend This Never Happened ostensibly was about embracing your own weirdness, but deep down it was about family. Furiously Happy is about depression and mental illness, but deep down it's about joy―and who doesn't want a bit more of that?
What arrived in your mailbox this week?