Title: The Great Zoo of China
Author: Matthew Reilly
Publisher: Gallery Books
Source: The publisher via NetGalley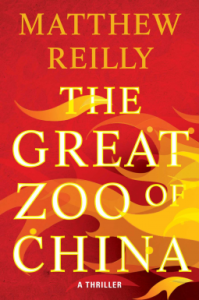 It is a secret the Chinese government has been keeping for forty years.

They have found a species of animal no one believed even existed. It will amaze the world.

Now the Chinese are ready to unveil their astonishing discovery within the greatest zoo ever constructed.

A small group of VIPs and journalists has been brought to the zoo deep within China to see its fabulous creatures for the first time. Among them is Dr Cassandra Jane 'CJ' Cameron,  a writer for National Geographic and an expert on reptiles.

The visitors are assured by their Chinese hosts that they will be struck with wonder at these beasts, that they are perfectly safe, and that nothing can go wrong…
Naturally there are going to be comparisons to Jurassic Park and the author addresses these head on. I enjoyed the strong female character and the science was interesting. Overall, I kinda liked it. It was a bit of a mindless read in that you know one disaster after another is going to befall the group on the tour but on the other hand you had to figure out how they might be able to survive each disaster.
About Matthew Reilly
Born in Sydney in 1974, Matthew Reilly was not always a big fan of reading.
According to Matthew, 'I actually disliked reading in my early high school years. I was given very dry old classics in Year 7 and it was only after I read To Kill A Mockingbird and Lord of the Flies in Year 10 that I realised reading could transport you to another world. Once I figured that out, I went out and found all the action novels I could!'
Following this revelation, Matthew soon began creating stories of his own and set about writing his first novel, Contest, at 19 while still at university studying law.