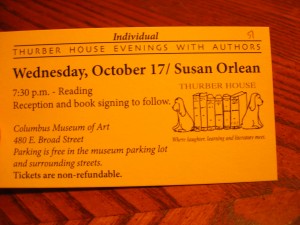 With my ticket and paperback copy of Rin Tin Tin in hand, I rushed into the Columbus Museum of Art and found a nice aisle seat for the event. When Susan walked down the aisle to take her seat, the women in front of me commented on her skirt. It was a showstopper!
Ron Shaull, former Thurber House Board of Trustees member, introduced Susan Orlean and proceeded to invite Linda Hengst from the Ohioana Library to the stage. Orlean won the 2012 Ohioana Award for Nonfiction and wouldn't be able to return for the award ceremony on the 26th. This was only the second time the award was presented outside of the Ohioana Awards Ceremony.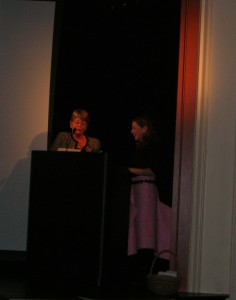 In addition to receiving the award, Orlean also learned earlier in the day Rin Tin Tin had made The New York Times Bestseller list. So it was a special night.
Orlean began with how Rin Tin Tin captured her attention as a child and moved on to a 5-minute video which gave an overview of Rin Tin Tin's career. Orlean then read some passages from the book before answering questions from the audience.