06.18.12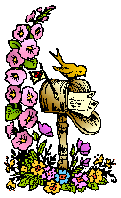 A big thank you to Marcia for originating Mailbox Monday. This weekly meme is now on tour with a new host each month. June's host is Burton Book Review.
One ebook entered the house this week. Henrietta The Dragon Slayer by Beth Barany. It's a young adult fantasy novel about Henrietta. She's a dragon slayer all right but she doesn't know if she can bring herself to kill another dragon or person. Her former master is ill and she embarks on one more quest with the hope she can save him.
What arrived in your mailbox this week?