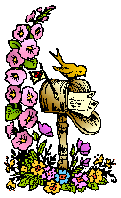 A big thank you to Marcia for originating Mailbox Monday. This weekly meme is now on tour with a new host each month. May's host is Martha's Bookshelf.
I went to B&N this week to pick up Erik Larson's new book, In the Garden of Beasts, since he was in town to do an author reading for the Thurber House. I miscalculated his popularity and the event was sold out. I didn't get to go but I kept the book since I knew I'd read it eventually.
While there, I picked up Miss Peregrine's Home for Peculiar Children by Ransom Riggs. It's received a bit of buzz the last few months.
Lastly, I picked up ebooks of most of Mur Lafferty's novellas. Earth, War, Wasteland, Hell, Heaven, Marc and the Red Granny and Playing for Keeps. The first five follows two best friends who die, go to heaven, become bored, and take off for places unknown.
What arrived in your mailbox this week?