Let's see… first I went to this place for a week: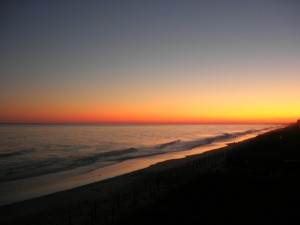 We stayed at the same beach house we've been going to for years. This year the internet connection was nonexistent. Even being plugged directly into the router didn't work. I wrestled with it off and on the entire week with only my cell phone to provide a lifeline to the outside world.
When I got back, I rebelled against the internet, I think. I didn't read my Google Reader, visit blogs or even check all of my email accounts.
For about 20 years I've wanted to learn how to knit. Since this is a milestone year I decided this would be the year to learn it. First I took a basic knitting class. We were supposed to make an iPod Cozy but really we just made swatches and began scarves. I'm still working on one for a sister-in-law as a Christmas present.
The instructor's pep talk gave me enough confidence to do the intermediate class. I learned how to make a hat.
Now that I can work with double pointed needles, I'm knitting a rabbit for my 8-month old niece. If I don't finish it in time for the holiday, I can have it ready for her 1st birthday.
There's a backlog of reviews to do. While on my beach vacation I started and finished quite a few books. Since all my holiday shopping is done, I expect my time over the next few weeks will be knitting a rabbit or writing a review and doing some year-end posts.