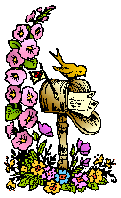 A big thank you to Marcia at A Girl and Her Books for originating Mailbox Monday. This weekly meme is now on tour with a new host each month. July's host is A Sea of Books.
This past week three new books came into the house. The first is Goblin Tales by Jim C. Hines. It's a short story collection featuring characters from his Jig the Goblin series. I've not read any of the books so this was my introduction to his goblin world. Jig is a nearsighted runt who lives by his wits.
The next book is Radiance: A Novel by Louis B. Jones which was sent to me by Julia Drake Public Relations for review. Mark Perdue, a physicist with Lyme Disease, accompanies his teenage daughter to a "Celebrity Singing Vacation". Let's just say the trip doesn't go as planned.
The last book was sent to me by the author for review. The Path Home by Caedem Marquez. Its publication date is set for August 1st. It's a romantic comedy which could be a pleasurable summer read. He's looking for more reviewers so if you're interested, let me know and I can get you in contact with him.
What arrived in your mailbox this week?