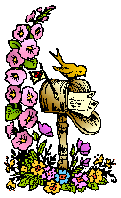 A big thank you to Marcia at A Girl and Her Books for originating Mailbox Monday. This weekly meme is now on tour with a new host each month. April's host is Passages to the Past.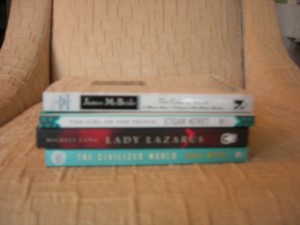 I received a $25 Amazon gift card last week (from asking Bekka Black a question during her visit to Bitten By Books) so I purchased some items on my wish list.  On the top is The Color of Water (10thAnniversary edition) by James McBride.  It's a memoir about his mother and his life growing up as an interracial child.  He's friends withSpike Lee and I was very impressed with McBride when he was in town for the celebrations around Lee's award of the Wexner Center Prize.
Second from the top is The Girl on the Fridge: Stories by Etgar Keret.  He's an Israeli author who has also been to the Wexner Center of the Arts but I stayed home that evening.  My husband said I would've enjoyed the visit.  Keret is probably best known in the US for the writing "Kneller's Happy Campers" which was the basis of the movie Wristcutters: A Love Story.
The third book from the top is Lady Lazarus by Michele Lang.  She was on one of the panels I attended at the World Fantasy Convention in October.  She mentioned the book several times and charmed me with her New York accent.  Lady Lazarus is a witch who can summon souls – this is the first in a planned trilogy.
The final book was sent to me by Henry Holt for review.  The Civilized World by Susi Wyss is a collection of short stories set in Africa.
What arrived in your mailbox this week?