11.10.10
Title: American Salvage
Author: Bonnie Jo Campbell
Publisher: Wayne State University Press
Source:Eco-Libris
Printed on: Alkaline paper
This review is part of the Green Books campaign.Today 200 bloggers take a stand to support books printed in an eco-friendly manner by simultaneously publishing reviews of 200 books printed on recycled or FSC-certified paper. By turning a spotlight on books printed using eco- friendly paper, we hope to raise the awareness of book buyers and encourage everyone to take the environment into consideration when purchasing books.
 The campaign is organized for the second time by Eco-Libris, a green company working to make reading more sustainable. We invite you to join the discussion on "green" books and support books printed in an eco-friendly manner! A full list of participating blogs and links to their reviews is available on Eco-Libris website.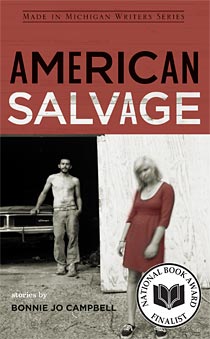 American Salvageis a short story collection by Bonnie Jo Campbell set in rural Michigan. The people are (mostly) scrappy. They're either trying to make their lives better or escaping from the harsh realties of their lives. I can't relate to the circumstances and situations of the characters but it's easy to empathize with their feelings.
Each story is unique.  The point of view varies which helps to keep the reader interested and makes one story not blend in with the other.  Several of the stories resonant weeks later.
One of my favorites is "Boar Taint". It features a newlywed wife, named Jill, who is married to a farmer ten years her senior.  The farming lifestyle would drive any city person crazy but she enjoys it.  Jill fully embraces her new life and wants to add to the family income by raising hogs for hog roasts.  She answers an ad for a $25 boar hog.  The boar is less than she expects and so much more.
About The Author
Bonnie Jo Campbell is the author of a collection of stories, Women & Other Animals, and a novel, Q Road. She is the winner of a Pushcart prize, the AWP Award for Short Fiction, and Southern Review's2008 Eudora Welty Prize for "The Inventor, 1972," which is included in this collection. Her work has appeared in Southern Review, Kenyon Review, and Ontario Review.