I'm so happy Tiffany was able to take some time from her busy schedule to answer questions about writing and her first novel, The Little Giant of Aberdeen County.  She's already at work on her second novel.  You can visit Tiffany online at http://www.tiffanybaker.com to get the latest news on her work.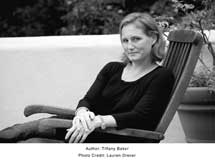 Amber: When you were writing The Little Giant of Aberdeen County, did any of the characters surprise you?
Tiffany: Yes, quite a few, starting with Truly. I never expected her spirit to be so resilient or her observations to be so sly.  Amelia surprised me, too. She's not quite the pushover she seems, even though she is broken and fragile. And August didn't exactly surprise me, but I just grew more and more fond of him as I wrote. He's a hot mess, but he'd still be fun to play a hand of cards with.
Amber: A lot of interviews and reviews focus on Truly and Dr. Robert Morgan's relationship.  I was really taken with Marcus and his relationship with Truly.  Marcus always loved her regardless of her size.  Was it difficult to write?
Tiffany:Marcus was a character that I developed over the course of several drafts. He wasn't difficult to write per se, but he became more important to the book. It was never difficult for me to imagine him always loving Truly, though. I think that for Marcus, Truly is kind of everything he can't be: big, solid, quiet. She compliments him.
Amber: You lead a very busy life.  What's your secret to finding writing time?
Tiffany: I make the time. I try to treat it like a job, but it gets crazy juggling three kids and a career, just like for any working mom. I'm the mom who sends her kids to school with mismatched socks, who sometimes forgets the lunch on a field trip day. But, at the same time, I always cook dinner and we always sit down together every night. My house is an epic disaster, though. I'm afraid I'm not a wonderful housekeeper. 
Amber: Do you have any writing rituals that you follow each time you sit down to write?
Tiffany: Well, let's see, I usually check email. Then I have to kick myself off the Internet and get down to business. I usually read over a little of what I did the day before, just to get my mind back into things, or go over notes. Sometimes I do a little research. Then I try to write as fast as I can before my three kids get back.
Amber: Was there anything about the publishing process no one warned you about that you wish someone had told you ahead of time?
Tiffany: One thing no one sufficiently warns you about is the fluidity of this business. People move around all the time—sometimes mid-book. The team you start out with in the beginning of a project may not be the one you end up with. That can be stressful. Also, it's really hard to learn how to keep the act of writing private and sacred. There's promoting a book and then there is the process of writing one and the two are not the same thing at all.
Amber: Have you had any memorable moments at book signings?
Tiffany: At my third book event ever, the lights went out in a power outage in the middle of my reading. We were in a tiny store and no one could see a thing, but the owner fumbled around and came up with some candles and some other ladies had some flashlights in their purses. And, actually, the candlelight made the event really intimate. It was like being around a campfire. Now, I think all book events should be held by candlelight!
Amber: I can't wait to read your next novel.  Is it close to being published? *crosses fingers*
Tiffany: I don't know yet when it will be out. Soon, I hope! I have a draft at the publisher's now. The book is called The Gilly Salt Sistersand it's about three women on a salt marsh in Cape Cod who all have a history with the same man. Two of the women are sisters and one is the man's pregnant teenaged mistress. When they end up together in the marsh, the trouble really starts. As soon as I know the details of when The Gilly Salt Sisters will be coming out, I'll put them up on my website: www.tiffanybaker.com. Thanks for the interview!