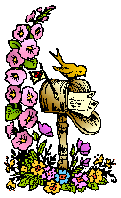 A big thank you to Marcia at The Printed Page for hosting Mailbox Monday.  It's the weekly meme where readers share the books that came into their homes.
Since today is my birthday, it's only fitting I would receive at least one book.  My parents got me The Lace Reader by Brunonia Barry.  I still have books from Christmas to read so it may take me a while to get to this one.
What arrived in your mailbox this week?