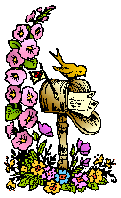 A big thank you to Marcia at The Printed Page for hosting Mailbox Monday.  It's a weekly meme I look forward to each week.
Sunday I finished reading Stieg Larsson's The Girl With The Dragon Tattoo.  I made a comment to my husband on Thursday or Friday that the book was so thick it wasn't going to be a quick read.  So I finished it on Sunday.  It was a page turner as promised.  On Sunday I went to the bookstore and bought both The Girl Who Played With Fire and The Girl Who Kicked the Hornet's Nest.  I was a happy girl!
What arrived in your mailbox this week?