06.04.10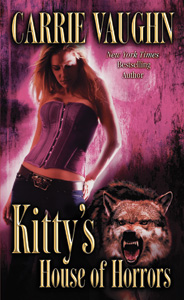 Title: Kitty's House of Horrors
Author: Carrie Vaughn
Publisher: Grand Central Publishing
Source: The Columbus Metropolitan Library
In the newest installment of the Kitty Norville series, Kitty and some of her paranormal friends are talked into doing a reality show.  A few strangers are thrown into the mix and one skeptic.  They're at a remote lodge with several production people.  For a few days it seems to be on the level.  They're asked to stick around the lodge as much as possible and are taped having a discussion each evening. 
They stumble across a campsite and wonder if something more is happening when the cabin loses power and the one phone to the outside world goes missing.  Dead bodies begin to pile up and they must fight for their lives.  Mostly independent, it's going to take compromise and teamwork to live. 
It's not important to have read the other books in the series but I think it would help before tackling this one.  Vaughn is adept at putting Kitty into situations that force her to use all of her (werewolf and human) instincts and this is no exception.  This is one time when no one from her pack can help her.  Ben is sharp but he's not near Kitty and he's distracted with Cormac's impending prison release.  It's going to take him a day or to before he figures out she's in danger.  The ending felt like… an ending.  There's something final about it and until I read the next novel would be released in July, I wasn't sure the series was going to continue.  The next novel is named Kitty Goes to War.  Combined with the ending of this book I think Kitty's House of Horrors was a setup to launch Kitty getting heavily involved in the vampire's Long Game. 
As always, Carrie included her playlist for this book.  Listen to these while you read the book.  Here it is:
Tom Petty, "You Don't Know How It Feels"
Vampire Weekend, "M79"
Billie Holiday, "What a Little Moonlight Will Do"
The Bangles, "Angels Don't Fall in Love"
Too Much Joy, "Sort of Haunted House"
The Cure, "A Forest"
Gaelic Storm, "Black Is the Colour"
The Tim O'brien Band, "Another Day"
The Dresden Dolls, "Good Day"
Sarah McLachlan, "Black"
Public Image Ltd., "The Order of Death"
Pink Floyd, "On the Turning Away"
Jeff Oster, "Tibet"