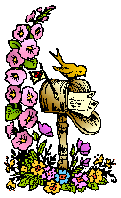 A big thank you to Marcia at The Printed Page for hosting Mailbox Monday. Until the end of January 2009, Marcia is donating 50 cents to Book Wish Foundation's holiday campaign for every link left for Mailbox Monday.
If you're off work today for the birthday of Martin Luther King, Jr. I hope you're doing something fun… like reading a book!
This week I received a copy of Bleeding Heart Square by Andrew Taylor.  I won it in LibraryThing's Early Reviewer January 2009 batch.  It seems something happened to all of the books that were sent out and they were re-sent late last week.  I was surprised when it arrived because I was expecting the next book that arrived in my mailbox.
The Ticking is the Bomb: A Memoir by Nick Flynn is a book I won in the LibaryThing Early Reviewers December 2009 batch of books.  I saw Nick Flynn a few years ago when he was out promoting Another Bullshit Night in Suck City which is a memoir about working in a Boston shelter and his run-ins with his homeless father.  He read some of his new poetry and talked about the book.  His new book tries to make sense of being a new father in post 9/11 America.
What arrived in your mailbox this week?