04.01.14
Title: Lowcountry Bribe
Author: C. Hope Clark
Publisher: Bell Bridge Books
Source: Personal Library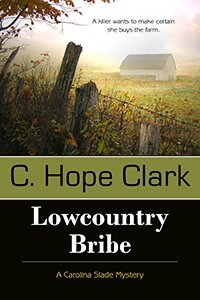 A killer wants to make certain she buys the farm.

Threats, a missing boss, a very dead co-worker, a high-level investigation and a sinister hog farmer: Lowcountry Ag Department manager Carolina Slade is a bean-counting civil servant in hot water.

Carolina Slade is a by-the-book county manager for the Department of Agriculture—a civil servant who coordinates federal loans for farmers in the coastal Lowcountry of South Carolina. When one of her clients, a hog farmer named Jessie Rawlings, offers her a bribe, Slade reports Jessie to her superiors. The next thing she knows, she's besieged by Resident Agent-In-Charge, now a Contract Investigator, Wayne Largo from the Feds' IG Office in Atlanta. He and his partner have come to investigate Slade's accusations, and if possible catch Jessie in the act of handing over money.

However, the IG isn't telling Slade everything. The agents are also investigating the disappearance of Slade's boss the year before in connection to possible land fraud. And when the sting on Jessie goes bad, the case is put on hold and Wayne is called back to Atlanta, leaving Slade to fear not only for her life and job, but for her children's safety.
I've received Hope Clark's email newsletters over the years which have provided progress updates on her debut novel so I was eager to read Lowcountry Bribe when it became available. Clark knows Slade intimately. Clark worked in the US Department of Agriculture and is married to a former federal officer. They met during a bribery investigation. Sound familiar? 🙂
Everything Bell Bridge Books has published, that I've read, I've enjoyed. Lowcountry Bribe is no exception. The opening scene reels the reader in. The book is well-paced and Slade is relatable. Slade is put into some dangerous situations and it's only the first novel! This is a good novel to read while cozying up to the fireplace or sitting on the porch with a cold lemonade.