Title: The Last Place You Look
Author: Kristen Lepionka
Publisher: Blackstone Audio
Source: Columbus Metropolitan Library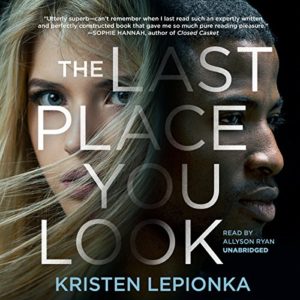 I listened to this on audio book so I missed small details that I'd normally catch when reading the ebook or print version but I still really enjoyed it. The narrator was perfect.
It has bits set in Columbus so it was nice to see my hometown so prominently featured. It has neighborhoods and restaurants that are still around so it didn't come across as dated.
It was interesting reading this during a pandemic and a time of protests against police brutality and racial inequality. The accused murderer is a black man on death row for allegedly killing the parents of his white girlfriend who went missing the same night and is presumed dead. Roxane is going to parties to do more investigative work.
It's really well written. There was a red herring that I didn't believe, partly because it was halfway through the book and partly because Roxane was so adamant that it was the right answer. The situations in this book were taken from headlines.
Roxane Weary is a complicated character and I'm glad there are more books featuring her. (The fourth one comes out next month.)
Before this one was published, a mutual friend who knows Kristen said that Kristen had done a ride-along with the police as part of the research. Our mutual friend is a big pusher of Kristen's books! 🙂
I actually met Kristen at The Great American Read Trivia Night 2018 at the Columbus Metropolitan Library. Our mutual friend got a lot of ribbing that night because she wasn't there. I attended that night with members of my book club, which includes our mutual friend. Without knowing Kristen was there we all ended up at the same table.