Title: Hellfire & Damnation III
Author: Connie Corcoran Wilson
Publisher: Quad Cities' Press
Source: The author in exchange for an honest review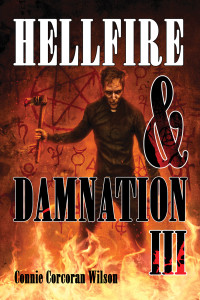 As evidenced by the title, this book is the third short story collection in the Hellfire and Damnation series by Connie Corcoran Wilson. The unifying theme for the series is Dante's nine circles of hell. It's been a while since I had a chance to read a short story collection and this was a nice change of pace.
The not so good: A few of the stories have abrupt endings as though the author was trying to stay within a word goal. At least one seemed to have excessive repetitiveness which kept jarring me out of the story.
The good: The stories have an element of reality or truth as the starting point. This will give the reader a slight chill of recognition. As I've mentioned before, I'm not a fan of gore and this was perfect to read during my lunch hour. These stories aren't overly long but aren't too short either. The characters are varied in ages, backgrounds and circumstances. Some short story collections suffer from similar stories and each has enough differences to set them apart. I'm willing to read more by this author.
Thank you to the author and Virtual Author Book Tours for arranging this stop on the book tour. Tomorrow's tour stop is at Lisa's Writopia which will include her own thoughts on this short story collection.
About The Author
Award winning author, Connie (Corcoran) Wilson (MS + 30) graduated from the University of Iowa and Western Illinois University, with additional study at Northern Illinois, the University of California at Berkeley and the University of Chicago. She taught writing at six Iowa/Illinois colleges and has written for five newspapers and seven blogs, including Yahoo, which named her its 2008 Content Producer of the Year. She is a member of ITW (International Thriller Writers), where she is a writer for their online newsletter, and a member of IWPA (Illinois Women's Press Association, Chicago chapter), which awarded her its Silver Feather Award in 2012 and 2014, MWA (Midwest Writers Association), AWP (American Writing Program) and MWC (Midwest Writing Center), which named her its Writer of the Year in 2010. She has won numerous E-Lit awards, a NABE Pinnacle award, an ALMA (American Literary Merit Award), Lucky Cinda competition and two IWPA Silver Feather Awards (2012, 2014). Connie's third book in "The Color of Evil" series, 'Khaki=Killer' was just named a Page-turner of the Year 2014 by "Shelf Unbound" and Writer's Digest magazine in its December/January 2014-2015 issue!