Title: Lock In
Author: John Scalzi
Publisher: Tor
Source: Columbus Metropolitan Library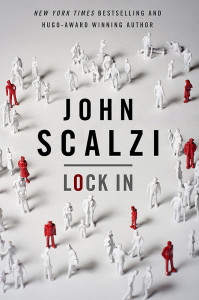 Fifteen years from now, a new virus sweeps the globe. 95% of those afflicted experience nothing worse than fever and headaches. Four per cent suffer acute meningitis, creating the largest medical crisis in history. And one percent find themselves "locked in"—fully awake and aware, but unable to move or respond to stimulus.

New technologies emerge to help those who suffer from the condition—a virtual reality network and a system of "riding" in the bodies of other individuals—which are quickly regulated, licensed, bonded, and controlled. Nothing can go wrong. Certainly nobody would be tempted to misuse it, for murder, for political power, or worse…
I read this for my Geek Girls Book Club and I really enjoyed it. I started reading it on a Sunday and had it completely read in time for book club on Tuesday. It starts with a prologue disguised as a web site entry. I'm not a fan of prologues in general but in this case it worked. It setup the world and answered questions the reader would have without dragging down the action.
One of the questions posed to the group: "Was Scalzi trying to make a point or statement with this book?" Some of the answers were really serious and tied into the other book discussed that night (The Golem and the Jinni by Helene Wecker). I felt really inadequate when I said I thought there was some kind of bet between Scalzi and Joe Hill and this was the result. As a nod to Hill, Scalzi even incorporated a mention of Corgis near the end.
Overall, it's an entertaining book. It has a mystery to solve in a future that has enough in common with the present that everything seems plausible.