Title: Her Loving Husband's Curse
Author: Meredith Allard
Publisher: Copperfield Press
Source: Premier Virtual Author Book Tours in exchange for an honest review

Her Loving Husband's Curse is the second book in Meredith Allard's Loving Husband Trilogy. It's not necessary to have read the first book as Allard is adept at sprinkling bits and pieces of the backstory in this novel.
And then, as if he could read her mind, he said, "We'll be all right, Sarah. Just the two of us. I'll never leave you ever."

Finally, after many long and lonely years, James Wentworth's life is falling into place. With his wife, Sarah, the only woman he has ever loved, he has found the meaning behind her nightmares about the Salem Witch Trials, and now they are rebuilding the life they began together so long ago.

But the past is never far away for the Wentworths. While Sarah is haunted by new visions, now about the baby she carried over three hundred years before, James is confronted with painful memories about his time with the Cherokee on the Trail of Tears. Through it all, the persistent reporter Kenneth Hempel reappears, still determined to prove that the undead walk the earth. If Hempel succeeds in his quest, James and Sarah will suffer. Will the curse of the vampire prevent James and Sarah from living their happily ever after?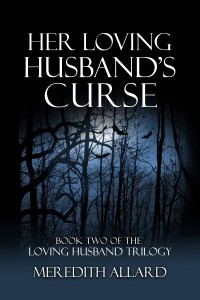 What happens when you mix historical fiction, romance, and the supernatural? In this case, a book I kept finding an excuse not to keep reading. It has a lot going for it but I couldn't connect to the characters.
Allard picks a historical event (The Trail of Tears) to parallel the storyline in which James is forced to leave his home and family behind. It's a famous event but I can't recall off the top of my head any fiction that uses it as a backdrop. This was smart as the reader wouldn't be tied to points of historical accuracy and gave Allard room to fictionalize events along the march.
The vampires aren't exactly stereotypical – sure, they have strong bodies without a pulse but they also shed bloody tears. And they aren't superhuman. The reader won't find any vampires carrying humans long distances in hopes of keeping the human from harm's way.
The book tour for Her Loving Husband's Curse continues until May 2nd. Check out the other stops (and a chance or two to win a copy of your own) at the Premier Virtual Author Book Tours site.
About The Author
Meredith Allard has taught creative writing and writing historical fiction workshops at Learning Tree University, UNLV, and the Las Vegas Writers Conference. Her short fiction and articles have appeared in journals such as The Paumanok Review, Wild Mind, Moondance, Muse Apprentice Guild, The Maxwell Digest, CarbLite, Writer's Weekly, and ViewsHound. She is the author of the Loving Husband Trilogy, Victory Garden, Woman of Stones, and My Brother's Battle (Copperfield Press). She lives in Las Vegas, Nevada. Visit Meredith online at www.meredithallard.com.
Meredith on Facebook:Â https://www.facebook.com/authormeredithallard
Meredith on Twitter:Â https://twitter.com/copperfield101
Meredith on Google+: https://plus.google.com/101687256587444508026/posts?hl=en 
Meredith on Pinterest:Â http://www.pinterest.com/meredithallard/