Title: Wolf Hall
Author: Hilary Mantel
Publisher: Macmillan
Source: My Personal Library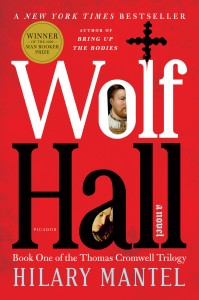 In the ruthless arena of King Henry VIII's court, only one man dares to gamble his life to win the king's favor and ascend to the heights of political power

England in the 1520s is a heartbeat from disaster. If the king dies without a male heir, the country could be destroyed by civil war. Henry VIII wants to annul his marriage of twenty years, and marry Anne Boleyn. The pope and most of Europe opposes him. The quest for the king's freedom destroys his adviser, the brilliant Cardinal Wolsey, and leaves a power vacuum.

Into this impasse steps Thomas Cromwell. Cromwell is a wholly original man, a charmer and a bully, both idealist and opportunist, astute in reading people and a demon of energy: he is also a consummate politician, hardened by his personal losses, implacable in his ambition. But Henry is volatile: one day tender, one day murderous. Cromwell helps him break the opposition, but what will be the price of his triumph?

In inimitable style, Hilary Mantel presents a picture of a half-made society on the cusp of change, where individuals fight or embrace their fate with passion and courage. With a vast array of characters, overflowing with incident, the novel re-creates an era when the personal and political are separated by a hairbreadth, where success brings unlimited power but a single failure means death.
Mantel creates a sympathetic portrayal of Thomas Cromwell. He's a self-made man who left his abusive father's home as soon as he could. I've commented in the Wolf Hall Read-Along discussions (held by The Bluestocking Society  and It's All About Books) how his story can appeal to Americans since he's a self-made made. Out of nothing but his willingness to work (or fight in battle) and use his brains, he rises to power in King Henry's court.
One aspect of Cromwell nearly everyone commented on in the Read-Along was his love for his wife. Because of his background he was able to choose his own wife. Mantel certainly makes you believe he loved her. After her death he longs for her and often finds himself mistaking his sister-in-law's presence for his wife. Years later, he still thinks of her.
The political intrigue is quite interesting but nothing I'd want to live through or with. A lot of the book is spent trying to figure out how Henry can leave his wife and still be a religious example. Cromwell thinks like a lawyer and a common man so it's interesting when he thinks ahead to the counter-arguments.
There are so many different characters with the same first names – Thomas, Henry, Edward and William – it can be difficult to keep track of them. Fortunately, Mantel has a reference guide in the front of the book. I didn't want to wait too long before reading Bring Up the Bodies. For some readers it will be confusing because some of the story is told through Cromwell's recollections and some parts are third-person point of view. But if you can read it for long stretches at a time, it will become second nature to know what is happening in the action.