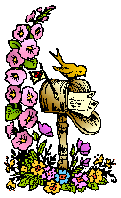 A big thank you to Marcia for originating Mailbox Monday. This weekly meme is now on tour with a new host each month. January's host is Lori of Lori's Reading Room.
Two books came into the house this week. Troll or Derby by Red Tash for review as part of the Heroines with Heart January tour.
In Troll Or Derby, fifteen-year-old Roller Deb is singled out by town bullies for both her skates, and for being different. When her popular homecoming queen of a sister is kidnapped by a scuzzy drug dealer, Deb must flee the trailer park in which she's grown up, and rescue her. Along the way, Deb becomes enmeshed in the magical realm of trolls and fairies, and the blood-thirsty version of roller derby at which these beings excel. But spending too much time among the fairies comes with a price. Will Deb choose to save her sister, with the aid of a mysterious troll? Or will she be lost to the lures of roller derby, and this magical new realm, forever?
The other book is Wolf Hall by Hilary Mantel so I could participate in the readalong with It's All About Books and The Bluestocking Society. I can't recall the last time it was so difficult for me to get my hands on a book. Both nearby libraries had all their copies checked out with long waits. Overdrive's 6 audio copies were checked out. I went to the bookstore on Sunday and there were no copies with Mantel's other books. I finally found three copies on a love themed table in the back.
In the ruthless arena of King Henry VIII's court, only one man dares to gamble his life to win the king's favor and ascend to the heights of political power

England in the 1520s is a heartbeat from disaster. If the king dies without a male heir, the country could be destroyed by civil war. Henry VIII wants to annul his marriage of twenty years, and marry Anne Boleyn. The pope and most of Europe opposes him. The quest for the king's freedom destroys his adviser, the brilliant Cardinal Wolsey, and leaves a power vacuum.

Into this impasse steps Thomas Cromwell. Cromwell is a wholly original man, a charmer and a bully, both idealist and opportunist, astute in reading people and a demon of energy: he is also a consummate politician, hardened by his personal losses, implacable in his ambition. But Henry is volatile: one day tender, one day murderous. Cromwell helps him break the opposition, but what will be the price of his triumph?

In inimitable style, Hilary Mantel presents a picture of a half-made society on the cusp of change, where individuals fight or embrace their fate with passion and courage. With a vast array of characters, overflowing with incident, the novel re-creates an era when the personal and political are separated by a hairbreadth, where success brings unlimited power but a single failure means death.
What arrived in your mailbox this week?