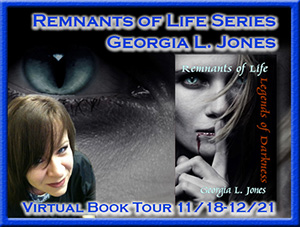 Title: Remnants of Life: Legends of Darkness
Author: Georgia L. Jones
Publisher: BlackWyrm Publishing
Source: Disclosure of Material Connection: I received this book for review fromFirst Rule Publicity from the author as part of a virtual book tour. I was not compensated nor was I required to write a positive review. The opinions I have expressed are my own. I am disclosing this in accordance with the Federal Trade Commission's 16 CFR, Part 255: "Guides Concerning the Use of Endorsements and Testimonials in Advertising."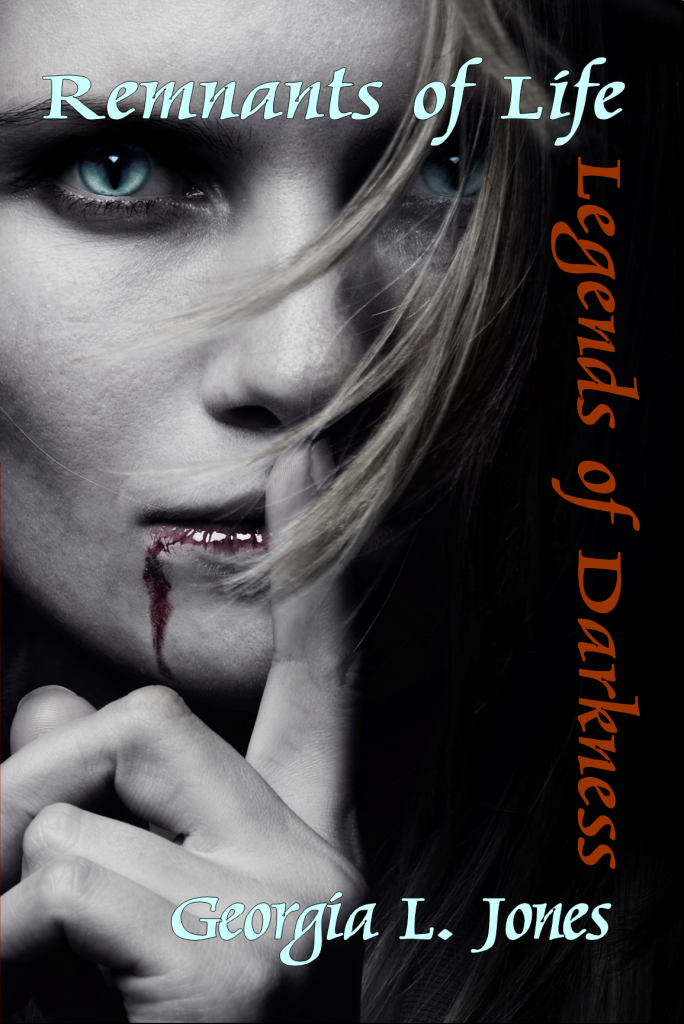 Dangerous Saviors… What would you do if your life rested in the hands of something that really wanted to eat you? Come journey through the realms of the next world where everything you know about Good and Evil are put to the test.

Samantha Garrett lives and dies a good life in the human world. She awakens a new creature, Samoda, a vampire-like warrior in the army of Nuem. She is forced to realize that she has become a part of a world that humans believe to be only "Legends of Darkness." Samoda finds her new life is entwined with the age old story of greed, love, betrayal, and vengeance.

Join our heroine as she battles not just for her own existence, but for the entire human race's future.
For a short time, Samantha can only wonder where she is and what is going on with her family. Before much time passes Woden provides a portal of air to the funeral home to offer a bit of closure. She has all of her old memories but a new body and a new athleticism she could've never achieved as a human. Samoda meets Drake and the pieces of her new life begin to fit into place.
The world building is quite interesting but I never felt engaged with Samantha/Samoda. The story is told in first person point of view which I usually enjoy and fits for this genre. The writing style kept me at a distance.
About Georgia L. Jones
Georgia L. Jones was born in Columbia, Missouri on September 21st, 1968. In 1992 she settled in the beautiful Ozarks town of Lebanon, Missouri, where she met and married the love of her life. Together they have raised 7 children and have the 8th still in their home.
At a young age Georgia learned the value of getting lost in a good book. She has always enjoyed reading and letting her imagination run wild. In her early teenage years she began to put her own stories down on paper as she plunked out the words on an old manual typewriter.
In 1996 Georgia enrolled at Missouri State University where she majored in Psychology. While there she found an untamable thirst for Philosophy and Greek Mythology. Many evenings she can still be found curled up with one of the great Greek Tragedy's or reading about personal continuity by Rene Descarte.
Over the years Georgia has harbored the dream of being a published author and written many short stories. On January 10, 2010 she embarked on the dream as she began to bring the characters from her first novel, "Legends of Darkness", to life. Upon completion in June 2010 she realized that it was not a single book but a series and created the concept of the series "Remnants of Life". She is currently working diligently on the "Remnants of Life" series.
***
Here are some links with more information:
Georgia L. Jones's Facebook Page