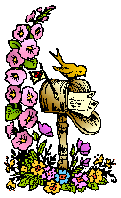 A big thank you to Marcia for originating Mailbox Monday. This month's host is Kathy of Bermudaonion.
It was a light week for me. I received an ebook copy of Remnants of Life: Legends of Darkness by Georgia L. Jones from First Rule Publicity for a December tour. It's an urban fantasy novel in which the main character dies and comes back as something else. I think that would be qualify as anyone's bad day.
What arrived in your mailbox this week?