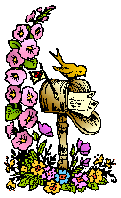 A big thank you to Marcia for originating Mailbox Monday. She's the host this month.
The Chocolatier's Wife by Cindy Lynn Speer promises to be a mixture of mystery, adventure and romance.
A short listen if you're interested is "Click-Clack the Rattlebag" by Neil Gaiman. It's about 10 minutes long and is scary but not too scary. 🙂
My first audio book in years is Legion by Brandon Sanderson. This novella is a thriller with a psychological bent.
What arrived in your mailbox this week?