Title: Lakebridge: Spring
Author: Natasha Troop
Publisher:Â CreateSpace
Source: Disclosure of Material Connection: I received this book for review from First Rule Publicity from the author as part of a virtual book tour. I was not compensated nor was I required to write a positive review. The opinions I have expressed are my own. I am disclosing this in accordance with the Federal Trade Commission's 16 CFR, Part 255: "Guides Concerning the Use of Endorsements and Testimonials in Advertising."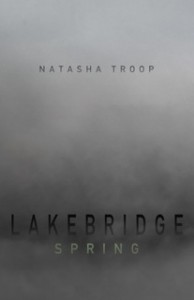 Vermont, picturesque and lovely, attracts visitors from across the country in search for the perfect picture, the perfect fall foliage or perhaps a taste of maple syrup. Stansbury is best known for the odd covered bridge that spans Stansbury Lake and goes nowhere, connecting no roads and serving no known purpose. The locals call it the Lakebridge. Very few know of its mysterious origins and fewer care to know more. Those visiting the town perhaps take a few snapshots and leave, their curiosity quelled by an uneasy feeling that they shouldn't think on it anymore.

The tourists will eventually leave Stansbury, but its residents strangely linger, seemingly held captive by a force they barely recognize. They also do not think about the town's mysterious artifact much except in passing, all but Gil, his father, Ben, and a few others. They know of the bridge's dark history and understand that it is responsible for every horror that ever befell the people of Stansbury: the people who fear the bridge but will not speak of it. The bridge makes people do things – bad things – so that it can continue to love and care for them all.

Some have tried to destroy the bridge, but as long as the bridge is fed with the lives of the innocents of Stansbury it will go on – loving the people of Stansbury.

Lakebridge: Spring is the first of a four book cycle revolving around Stansbury and the Lakebridge.
This series is described as supernatural horror. I'm generally squeamish about horror but thought I could handle this and I did. If you're looking for broken bones and slashed up bodies this is not the book for you. That's not to say there isn't violence in it. There is but it fits the story and isn't so graphic it kept me from eating while reading.
Lakebridge: Spring has elements of a whodunit which pulls the reader into the story. No character, no matter how minor, is wasted.
This novel is grounded in the present and what can be seen. People are living their lives and not thinking too far ahead into their futures. They never ponder the purpose of the bridge. They don't wonder what happened to the many apothecary counter girls who disappeared over the years. Something always turns their thoughts away from the past and back to the present.
I often find stream of consciousness points of view annoying. The stream of consciousness storytelling works. In fact, it really helps you understand the characters better. Even the weasel faced Deputy's thoughts provides laughs. Sure, it's a dark story, but it's got humor to lighten the tension.
About the Author:
Natasha grew up in Southern California and received her Bachelor's degree from UCLA in Comparative Literature. She also holds Masters Degrees in both Secondary Education and Creative Writing. Natasha currently lives in the Phoenix area with her spouse, son, daughter and menagerie of pets, including a Basset named Moose and a very overprotective collie dog. Aside from writing and teaching high school students to love theatre.
Connect with Natasha on the Stansbury, Vermont blog, Facebook or Twitter.