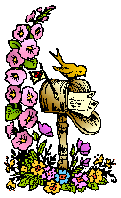 A big thank you to Marcia at A Girl and Her Books for originating Mailbox Monday. This weekly meme is now on tour with a new host each month. October's host is Serena of Savvy Verse & Wit.
This will seem like a lot of books because I'm behind two weeks in participating in the Mailbox Monday meme and had a trip to the comic book store during that time.
Korgi Book 3: A Hollow Beginning by Christian Slade. A former Disney cartoonist, Slade has created a nearly wordless series featuring Ivy and her Korgi companion, Sprout. This is the third book.
Mark Twain's Autobiography 1910-2010 by Michael Kupperman. Imagine the adventures Mark Twain would have if he faked his death.
Locke & Key: Welcome to Lovecraft Special Edition by Joe Hill. I've been interested in his work for a while but just haven't picked anything up. He's my age, grew up with Corgis and has a Corgi of his own.
Shadow Fall by Erin Kellison. This is the second book in her Shadow series and each is meant to read on its own. We follow each other on Twitter.
What arrived in your mailbox this week?