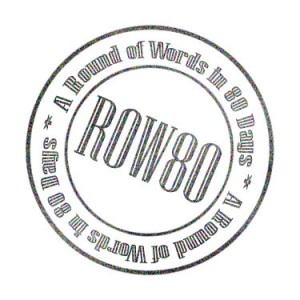 Happy Sunday!
My goal for Round 3 of A Round of Words in 80 Days is to write another 10,000 words on my unfinished fantasy manuscript. That averaged to 125 words a day and now I have to write about 650 a day in order to make my goal. There are 11 days left in the challenge.
Goal: 10,000 Words
Words Written: 2821 (782 since 8/28/11)
Progress: Extremely Behind But Can Still Catch Up
I didn't post any check-ins this past week because I was embarrassed of my 9 words. I'm sure visitors are tired of hearing the same thing twice a week about how little I was able to write. And how stubborn I am about not changing my goal.
One of the mini-workshops I took last month involved using engaging words to make your story come alive. The editor offered to look at the first three pages of our manuscripts. I sent them on and was surprised to have a critique within 24 hours. You know what was encouraging? They really need work but she didn't tell me it was complete crap. In fact, she offered to look at them again after I worked on them some more which was nice.
How are you doing on your ROW80 or writing goal?