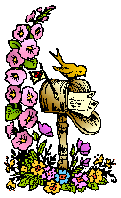 A big thank you to Marcia at A Girl and Her Books for originating Mailbox Monday. This weekly meme is now on tour with a new host each month. August's host is Life In The Thumb.
One book came into my home this week. It was Murder Takes the Cake by Gayle Trent. After a disasterous marriage, Daphne Martin moves to a small town to make a new life for herself and pursue her bakery dream. Her first cake customer is found dead and everyone thinks the cake Daphne baked did it. If she ever wants to her life in order she's going to need to clear her name.
What arrived in your mailbox this week?