07.27.11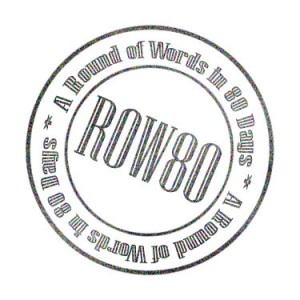 My goal for Round 3 of A Round of Words in 80 Days is to write another 10,000 words on my unfinished fantasy manuscript. I did the math and that averages to 125 words a day. As of today I should be up to 3,000 words.
I've made some progress in the last few days. Encouraging comments left on my blog let me know I'm not in this alone. Also, I keep thinking about the 5k+ days I've put in the last two NaNoWriMos and how painful they were. I don't want or need self induced stress so I try to minimize it as much as possible. And it turns my right hand into a claw from typing so much.
Goal: 10,000 Words
Words Written: 1075
Progress: Behind But Can Still Catch Up
If one of your goals is to edit a novel, I recommend EditPalooza at Savvy Authors. There is a new one starting in September. It fills up pretty quickly but as they get more editors to agree to work with the group, more spaces become available. I did one earlier this year for another unfinished novel which helped me use different writing muscles.
How are you doing on your ROW80 or writing goals?