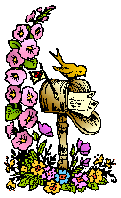 A big thank you to Marcia at A Girl and Her Books for originating Mailbox Monday. This weekly meme is now on tour with a new host each month. June's host is Bluestocking.
This week I added two new books to my to be read list. The first was Something Deadly This Way Comes by Kim Harrison. It's the third book in the Madison Avery series. I've reviewed the other books – Once Dead, Twice Shy and Early to Death, Early to Rise. It was a Reader's Choice win from Suzanne Johnson. If you're interested in paranormal fiction (including YA) she posts each week a list of the upcoming week's new releases.
While in New York last month, I saw several stickers for the video game L.A. Noire. I don't really pay much attention to what new games are available for our PS3 so my husband had to tell me about it. Tied in to the game is a collection of short stories titled L.A. Noire: The Collected Stories published by Mulholland Books. I didn't know the contributors beforehand so I was happily surprised to find a new story by Francine Prose. It also has stories from Joyce Carol Oates and Lawrence Block. I'm about half way done with it and so far have been having a good time deconstructing the stories.
What arrived in your mailbox this week?