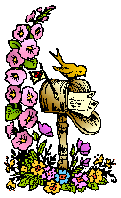 A big thank you to Marcia at The Printed Page for originating Mailbox Monday. It's now hosted by a different blog each month. Rose City Reader is January's host.  Library of Clean Reads will be February's host.
My husband went to the bookstore in search of logic puzzles.  His only purchases were for me.
Just Kids by Patti Smith – I've heard her on NPR at least once talking about the book and thought it would be interesting to read.  I cried when I heard her acceptance speech for the National Book Award.  She's currently working on a crime novel.
Inside of a Dog: What Dogs See, Smell and Know by Alexandra Horowitz – I've heard conflicting things about this book.  Some readers think it's full of crap or too narrow of a focus and others love it.
Speak to Our Desires by Brenda W. Clough – This was an ebook win from LibraryThing Early Reviewers.  Clough writes mainly science fiction and fantasy.  A private investigator is hired to find the client's mother.  Book View Cafe has a preview of the first chapter.