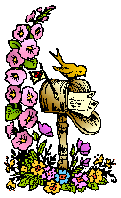 A big thank you to Marcia at The Printed Page for originating Mailbox Monday.  Mailbox Monday has gone on tour!  Hosting for December is Lady Q of Let Them Read Books.  January's host will be Rose City Reader.
Since the holidays have come and gone that means more books made it into my household.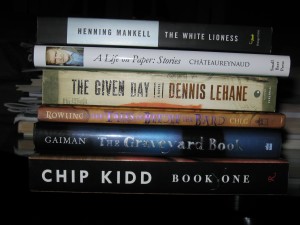 The White Lioness by Henning Mankell – Another Kurt Wallander mystery, this one takes place in Sweden and Africa.
A Life on Paper: Storiesby Georges-Olivier Chateaureynaud – I've never heard of Chateaureynaud before and it seems I'm not the only one!  He's a French author and this translation covers stories from his career.  When I read a review that described them as reality with an asterisk I wasn't surprised to find it was published by Small Beer Press.
The Given Dayby Dennis Lehane – I've enjoyed watching several movies based on his books but never picked one up to read. 
The Tales of Beedle the Bard by J.K. Rowling – This is a slimmer volume than I expected.
The Graveyard Book by Neil Gaiman – I love it that the idea of this book originated when his son was a young boy.  It finally gelled into something when his son was grown up.  Some ideas just take their time.
Chip Kidd: Book One: Work: 1986 – 2006 by Chip Kidd with an introduction by John Updike – My husband is good at finding books for me I wouldn't pick out for myself.  Kidd is an author and graphic designer.  He's famous for his book covers.  Glancing through the book there are several I recognize.
What arrived in your mailbox this week?