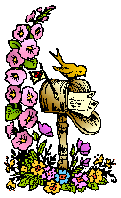 A big thank you to Knitting and Sundries for hosting Mailbox Monday during November.
I had no idea I would be getting so many books this week.  Earlier in the year I registered for the World Fantasy Convention and it was this weekend.  Each attendee received a bag of goodies which included samples of new titles and a lot of books.  Really.  The convention had a book swap table which always seemed to magically refill with more books.
This is a picture of the new books I received on Friday.  These included:
Highborn by Yvonne Navarro
Fatal Circle by Linda Robertson – (I finished Vicious Circle over the weekend and enjoyed it.) This is the third book in the Persephone Alcmedi series.
The Sword-Edged Blonde by Alex Bledsoe
Black Dust Mambo by Adrian Phoenix
Warbreaker by Brandon Sanderson
Painted Man by Peter V. Brett
Sense and Sensibility and Sea Monsters by Jane Austin and Ben H. Winters
Misguided Angel by Melissa De La Cruz
Queen Victoria: Demon Hunter by A.E. Moorat
Rage of the Behemoth: An Anthology of Heroic Adventure edited by Jason M. Waltz
Libyrinth by Pearl North
White Cat by Holly Black - While Holly was signing my book she mentioned it was the first time she'd had a book in the convention swag bag and she was excited about it.
Elfworld Volume 1 by various comic artists
The Best of Gene Wolfe: A Definitive Retrospective of His Finest Short Fiction by Gene Wolfe
Books from Saturday include:
The Man from Beijing by Henning Mankell – My husband and I went to Half Price Books after having a nice dinner and this is the one thing I allowed myself to get. Earlier this year I heard him read part of the first chapter on NPR.
The Exiled Queen by Cinda Williams Chima
The Candidates by Inara Scott
Bloodshot by Cherie Priest – This is an ARC and while I've often wanted to read her books I just haven't found the time.
Fangs for the Mammaries edited by Esther Friesner – I went to a few panels that featured Esther and thought she was funny. She has a new book out in March that sounds perfect for me called Threads and Flames. It's about the Triangle Shirtwaist Factory fire.
Shotgun Sorceress by Lucy A. Snyder – Lucy signed this one for me during the mass author signing held on Saturday night.
Winter Witch by Elaine Cunningham
Night of Knives by Ian C. Esslemont
Books from Sunday were few:
Neuropath by R. Scott Bakker
Act of Will by A. J. Hartley
What showed up in your mailbox this week?