Title: My Soul to Lose
Author: Rachel Vincent
Publisher: Harlequin Teen
Source: My personal library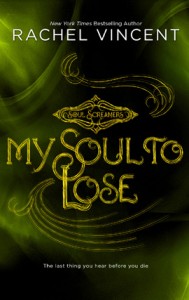 My Soul to Lose is a prequel novella intended to get the reader hooked on the Soul Screamers series of books by Rachel Vincent.  It works.  As soon as I was done reading it, I reserved the first book at the library.  My Soul to Lose introduces the reader to Kaylee Cavanaugh.  She's a teenager who sometimes sees weird things that make her scream.  This lands her in a mental institution.
Kaylee sounds real.  She's one of the those kids in the middle of the social status and her home life is a little messed up.  After her mother's death, her father moves to Ireland and leaves her with her aunt, uncle and cousin.  She knows her dad loves her, but she just looks too much like her mother to be around her.
What hooked me into reading the first book is the novella doesn't explain why she screams.  My review of My Soul to Take is on the way!