09.08.08
There are so many people blogging about themselves and their interests on the internet it's a bit hard to keep up with it all.  Today I'd like to introduce you to Natasha Maw.  She blogs about books and decided she wanted to make a difference.  This September she's Reading & Blogging for Darfur.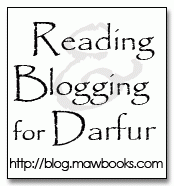 For every post she makes, for every book she reads and every comment someone leaves on her blog will raise money for Darfur.  You can participate by leaving comments, by reading one her suggested books or watching one of her suggested movies about Darfur.  Let Natahsa know you did it.  You can also contribute by sponsoring her for reading books and writing posts.  All of the details including how to win prizes can be found here. 
I thought this was a unique awareness and fund raising idea.  In the future, I may need to borrow some of her ideas for a future CorgiAid fund raiser.