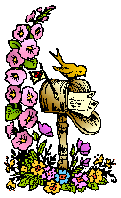 A big thank you to Marcia at The Printed Page for hosting Mailbox Monday.  A lot of new books flew into the house this week courtesy of the Ohioana Book Festival.  This is the fourth year of the festival in which Ohio authors are featured. 
Starting from the top of the stack is Don of the Dead by Casey Daniels.  This is the first in a series of mysteries featuring Pepper Martin, an heiress whose family fortunes has turned sour.  She must get a job.  The only job she can find is that of a cemetery tour guide.  Through an on the job accident, she finds she can communicate with the dead.  In this first book she helps a deceased mafia boss hunt down his killers.  Each book in the series focuses on a ghost from a different decade.  Casey said the series is a light read.  Sounds perfect for porch reading.  Casey currently lives in the Cleveland area.
Next is Embers by Laura Bickle.  Anya is an arson investigator in Detroit by day.  At night she's part of a ghost hunting team.  Anya is a psychic medium who believes a supernatural arsonist is setting fires to summon a fiery being.  Time is running out before the spell will be complete.  Laura lives in Ohio.
Linda Robertson's Vicious Circle is next.  Persephone Alcmedi is a tarot card reading witch.  Witches don't mix with werewolves but Persephone's best friend is one.  Life is piling up for Persephone – her grandmother gets kicked out of her nursing home, her best friend is murdered, and she's been asked to kill a vampire.  The little thing at the top of the pile is the cedar and sage soap with a tag on it.  It represents what Persephone smells when she puts on the leather jacket of Johnny, a werewolf she's attracted to.  Both Persephone and Linda live in Cleveland.
Spellbent by Lucy A. Snyder.  One of my favorite books so far this year and not just because it's set in Columbus.  Jessie Shimmer is a magic student trying to summon up a rain storm to end a drought.  During the spell she loses her teacher (and lover) into a portal and a demon is on the loose.  Lucy lives in a suburb about 15 minutes away from me.
All the Way Home by David Giffels is a memoir about finding (and repairing) the perfect home in Akron, Ohio with his wife and infant son.  At one time, Akron employed over 35% of the production workers involved in the rubber industry.  The home David finds is a challenge.  Once the home of a rubber executive it's fallen into disrepair of the worst kind.  Animals live inside the house and the roof has more holes than shingles.  David lives in Akron.
Under Glass: The Girl with a Thousand Christmas Trees by Jen Hirt is a memoir about the family greenhouse business.  Her family life has been turned upside down and the greenhouse land has been sold to a nationwide pharmacy.  The greenhouses are torn down but her family won't.  Jen grew up in Valley City, Ohio and currently teaches in Pennsylvania.
Sparks and Shadows (two copies) by Lucy A. Snyder are at the bottom of the pile because they're the largest.  Contents include poems, short stories and essays.  The one with the tan colored spine is the second edition and the contents are nearly the same as the first, limited edition.  It has a new introduction and one poem swapped out for another.  At Lucy's suggestion I bought the second edition as a future giveaway for my readers.  I've already read a few of the stories from when they were available on her web site a few years ago but I want to get more read before doing the giveaway.
What arrived in your mailbox this week?