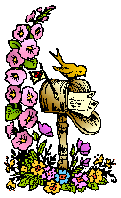 It's Monday once again.  A big thank you to Marcia at The Printed Page for hosting Mailbox Monday.  In case you're not familiar with Mailbox Monday, it's a meme that can make your TBR pile bigger.  Participants note which books arrived in their mailbox (or email box) during the week.  Then we all look at the other entries and figure out which books we want to read.
This week I unexpected received a copy of The Unnamed by Joshua Ferris.  I don't keep a list of which books I'm expecting but I generally have a good idea of what is on the way.  Since most of my books come from the publisher or publicist there is usually a trail of emails.  In this case, it took me about a day to remember.  I won this as part of Bloggiesta!
What arrived in your mailbox this week?