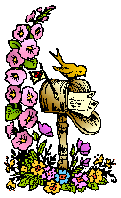 A big thank you to Marcia at The Printed Page for hosting Mailbox Monday.  Mailbox Monday is a weekly meme in which we share the books that arrived in our mailboxes during the week.
I'm almost caught up with my LibraryThing Early Reviewer reviews so of course that meant it was time for me to win two books from the March batch of books.  Try Me by Parker Blue arrived via email.  It's the second in a series featuring Val, a part-demon teen vampire hunter with a terrier hellhound.
I received a review copy of I Has A Hotdog: What Your Dog is Really Thinking by Professor Happycat while I was out of town.  Can you tell I am a sucker for dog books?
What arrived in your mailbox this week?