01.03.10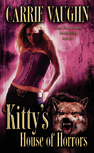 Early last year I participated in a blog tour for Carrie Vaughn centered around the Kitty Norville series.  The last book, Kitty Raises Hell, had an excerpt in it for Kitty's House of Horrors. 
It is available!  (The Hachette Book Group site notes it is available on 1/1/2010 and Amazon has it available for preorder until 1/4/2010.) 
In this book, Kitty participates in a reality tv show which isn't turning out to be the experience Kitty thought it would be.  As the bodies pile up she has to figure out who is behind the murders and who to trust.  This time it sounds like she can't rely on anyone in her pack to help her.