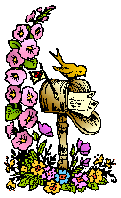 A big thank you to Marcia at The Printed Page for hosting Mailbox Monday.  From now until the end of January 2009, Marcia is donating 50 cents to Book Wish Foundation's holiday campaign for every link left for Mailbox Monday.
Here are the books that came into my house last week, courtesy of holiday presents that were (mostly) on my Amazon Wish List:
The Girl with the Dragon Tattoo by Steig Larsson. This has been a runaway bestseller.  I have a soft spot in my heart for Swedish thrillers and this seems like it won't disappoint.
The Invention of Hugo Cabret by Brian Selznick.  The only book not on my wish list.  The story of orphan Hugo is told in over 500 pages of words and pictures.  It's a Caldecott Medal winner too – how could my husband go wrong with this as a gift for me?
Three Men In a Boat (To Say Nothing of the Dog) by Jerome K. Jerome.  An English humor classic based on the real adventures of three (hypochondriac) friends who go on a boat trip.  The dog and some of the events are embellished but sometimes a good story needs a little embellishment.
The Eyre Affair by Jasper Fforde.  This is the first book in the Thursday Next series.  Set in England in an alternate universe, Thursday Next travels into books to set the stories right and apprehend the criminals that would change literary classics to suit their own purposes.
Mexican Everyday by Rick Bayless.  For as long as I can remember I've liked to look at the pictures inside cookbooks.  I've eaten at one of his restaurants – Frontera -  a few times when visiting Chicago and have been within arm's reach of him.  But I don't think I appreciated him fully until I saw him on Top Chef Masters.  I follow him on Twitter and this is the book he recommends for beginning cooks.  It has pictures of ingredients, lists of pantry items and has some great tips.  (For example, I never would have thought to make beans in a crock pot!)
Michael Symon's Live to Cook by Michael Symon with Michael Ruhlman.  The first time I heard about Symon was on an episode of No Reservations set in Cleveland, Ohio.  It was probably my first time watching Bourdain's show and it was the first I'd heard of this Ruhlman character.  (Now I've read a few books by Ruhlman and have his cookbook Ratio.)  Michael Ruhlman and Anthony Bourdain went to Symon's restaurant, Lola.   Symon was the pork obsessed chef with the maniacal high pitched laugh.  (He's also become a Food Network Iron Chef since the original airing of No Reservations.)   I knew I had to make a pilgrimage to Lola.  And I've been there twice so far and loved both visits.  My husband always gets the beef cheek pieorgies and I was able to track down the pierogie dough recipe but now I have the recipe for the entire dish.  Mu-ha-ha!  (Now I just have to find a local butcher that will provide me with beef cheeks!)
So… what books came in your mailbox?