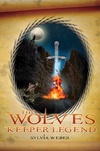 The Wolves Keeper Legend is the debut novel of Sylvia Weber.  Printed by Vanguard Press in the UK, it's categorized as General / Children's fiction.  The English and Gaelic vocabulary lend the book as suitable to pre-teens or teenagers.  The book contains two intertwined stories.  One story is about Sealgair and Awena, two lovers who have been cursed to be apart by the jealousy of a sorcerer.  The second story is about their son's quest to locate the papyrus-pearl in the stone pot.  Seanns is a boy who means no harm with his mischief and strives to do what is just.
Weber's style has been called poetic prose.  She uses a variety of words to create imagery for the reader.  Here are two sentences/paragraphs from the book to provide a little taste:
Sealgair reclined by the crackling fire and felt the heat flowing across his body like a sunbeam.

When the first rays of dawn began painting the celestial view in crystalline colours, he was awakened by the effusive peeping of birds greeting the sun.
Doesn't it seem more interesting than my contrasting interpretation?  "Sealgair felt the warmth of the fire as he lay next to it.  When the dawn broke, the sound of birds woke him."
Having read quite a bit of fantasy in the last year I look for details that might be missed by younger readers and provide clues to later scenes.  It's possible Weber's style distracted me from realizing those details were picked up later or an editor missed some continuity.  My theory is The Wolves Keeper Legend is only the beginning of Seanns' adventures – Weber left a few things out because they are not for this particular story but play a role in future tales about Seanns.
About Sylvia Weber
Sylvia Weber was born in Abrantes, Portugal, on 20th June 1968.  She started writing at the age of twelve, sending articles to newspapers and participiating in school contests.  Graduating in Modern Languages and Literature, her whole career was dedicated to teaching and developing the children's greatest potential.
A wide diversity of interests took her to a life of researching and studying a variety of subjects such as languages, phytotherapy and painting.  A strong belief in dreams took her to the United Kingdom at the age of thirty-nine, searching for a place to call 'home'.