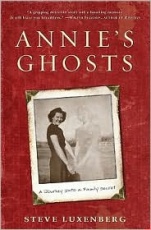 Washington Post associate editor Steve Luxenberg is a master of investigative journalism.  The editor of two Pulitzer Prize-winning series, Luxenberg has now written his most compelling story: his exploration of his late mother's secret.

Beth Luxenberg always claimed to be an only child, but a chance mention led to the discovery that she had been hiding the existence of a sister, Annie.  The girls had grown up together, living in a series of cramped apartments until Annie's commitment to a mental institution at the age of twenty-one.  Why was Annie committed?  How had Beth so thoroughly erased her sisters existence?  Why had she wanted to?
That's a small blurb from the FSB Associates press release for Annie's Ghosts: A Journey Into a Family Secret that gets to the heart of Luxenberg's questions.  This is currently my favorite non-fiction book of the year and should be added to book club reading lists.  A big thanks goes to Julie at FSB Associates for introducing me to this book.  When I heard Luxenberg's interview on NPR I found him to be engaging and hoped his writing would be the same.
Every family has secrets, whether they know them or not.  Sometimes they die with the people who know the secret but in this case Beth Luxenberg's secret took  on a life of its own.  Because this secret involves his mother and an aunt he never knew, he has an emotional investment in what he finds.  Every good detective story has a reliable narrator that tries to make the dots connect and Luxenberg serves that purpose well.  He doesn't hold back information to surprise the reader or create shock value.  If any information is held back it's because it's revealed in approximately the same timeline in which he learned it.  This provides the reader the thrill of what was formerly thought to be a dead end as a new avenue of information. 
Edmund Wilson is often quoted with "No two persons ever read the same book" because the reader brings their own experiences and interpretations to a book.  One of my points of reference while reading this was Clint Eastwood's The Changeling. Imagine my surprise when Luxenberg used this movie as an example in yesterday's guest post, but from a different angle.  The main character is institutionalized against her will and meets other women in similar circumstances.  Luxenberg educates the reader about the Michigan mental health system and changing attitudes towards psychiatry in an interesting way without it being boring or overly technical.  He sheds light on how a man or woman could find themselves involuntarily admitted into an institution for life. 
In the last 30 years amazing progress has been made in the fields of psychiatry and orthopedics.  It gives the reader hope that today's disabled and mentally ill people have a better quality of life than Annie and makes the reader sad she was born before these advances.  This journey does make Luxenberg evaluate what he knows about his parents.  Though he can understand his mother's motivations for keeping her sister a secret he never judges her.  And that's one of the main reasons why I like this book.